Published on Tuesday January 17th, 2012
UPDATE: If you'd like to purchase Winter Garden, it's in my Ravelry store. There's also a link to buy it in the sidebar of my new blog.
Thanks, everyone, for your kind words about the new jumper! I originally had a mad plan to knit one in a different palette for Ada to keep… I think I'll follow through on that, but I'll have to knit her the next size.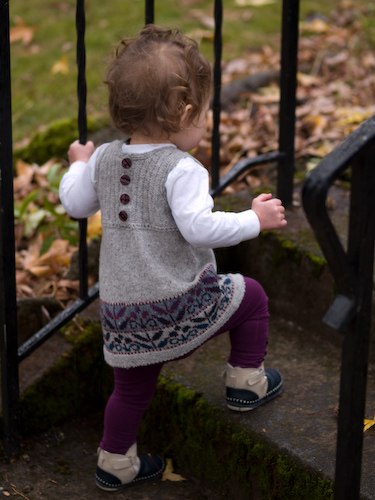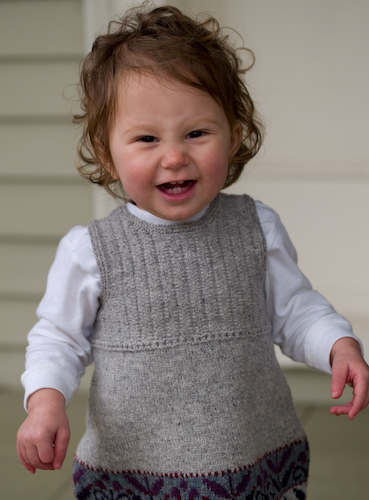 Fierce! With crooked teeth!
Winter Garden features Brooklyn Tweed's new fingering-weight American wool, LOFT, which I could happily knit till the end of my days. The only trouble with using LOFT for colorwork like this is that the skeins are much more generous in size — 275 yards/50 grams — than you typically find for this weight: Jamieson's Shetland Spindrift, for example, comes in a put-up of 115 yards/25 grams and is therefore less than half the price. I had to splurge to acquire the six gorgeous shades I chose for contrast colors. One could certainly just purchase two skeins of the main color and go stash-diving for the rest (the yardage needed is very little per color), but it is dreadfully hard to resist once you've ogled Jared Flood's luscious and thoughtfully edited palette of heathers in person. And I'm really so pleased with this motif that I'm dying to knit myself a whole pullover of stripes and flowers to use up the substantial remnants! (The red — Long Johns — may not last that long, though. I have my eye on Gudrun Johnson's new Norby hat.)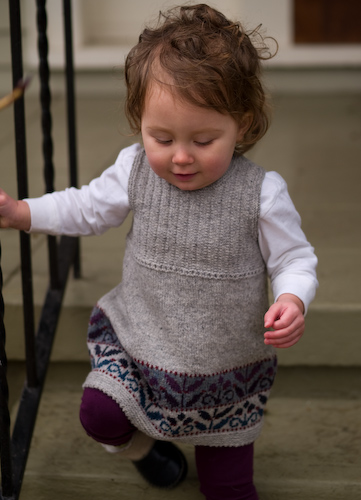 I had planned to weave a 1/4″ velvet ribbon through the eyelets and tie a bow, but decided the effect would be too fussy for my tousle-headed girl. The eyelets form a sufficient visual divide between the skirt and the bodice as they are… though part of me still thinks that ribbon would be irresistibly sweet.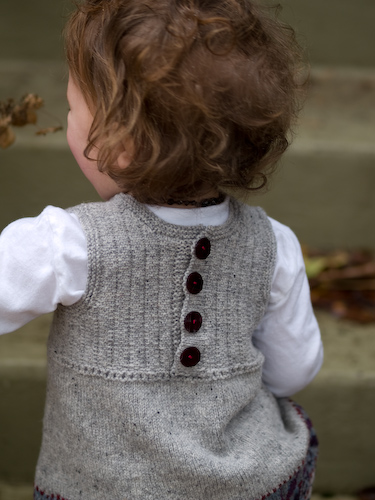 I have written up the pattern for the 12-18 month (20″/50 cm around at the bodice) size shown here. I think this will be the smallest size, but I'd like your input on that before I grit my teeth and buckle down to the onerous process of grading it. Would you want to knit this for a smaller baby, say 6-12 months? With the buttons placed as they are I wouldn't really consider it practical for anyone who still spends most of her time lying on her back. And what about for bigger kids? I was thinking, on the supposition that most folks won't want to knit a larger garment on 3 and 3.25 mm needles, about going up to 4T. I also figure a child gets pretty opinionated about her wardrobe by then and it would be a tragedy to put in this kind of time and love only to be rejected! But tell me what you think about the sizing.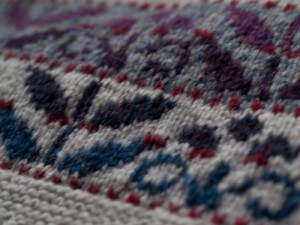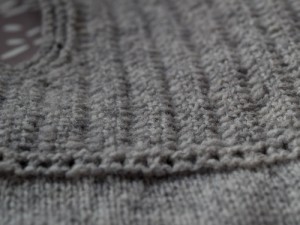 My experience knitting Winter Garden lead me to a scheme for 2012: I believe I shall try to buy only non-merino wools. My friends think this is utter madness, and of course I feel the world of wool would be a sadder and itchier world without the contributions of the noble merino. But what about all the other breeds, each so full of its own character and history? Merino has long been the gold standard, but now that it's so widely available it's also become almost the only wool many knitters (and the loved ones who wear their creations) will touch, and our choices at the yarn shop reflect that demand. I fear other breeds may already be suffering as fewer farmers raise them for the high-end hand-knitting market. And it may be no good thing for the merino sheep themselves to be so disproportionately favored. Understand that I'm speaking entirely from instinct, not from having done any thorough research into the state of the world-wide sheep industry. But on a personal level, too, many of my favorite and most-worn projects are of breeds other than merino. Amanda, my warmest and best-looking sweater, is knit from Wensleydale grown here in Oregon. My Blue Thistle jacket, also still unpilled and looking great, is Perendale. Mr. G's Fishtrip cardigan is who-knows-what sturdy wool. My Pas de Valse is BFL (and pretty pilly now, but I blame this on the loose gauge the design requires, not the wool itself) and my Rorschach jacket is Icelandic wool. So let the non-merino stash diet begin. I predict I won't even miss it (and of course there's plenty of merino already residing in my yarn closet if I do). Anyone care to join me?