Published on Monday October 8th, 2012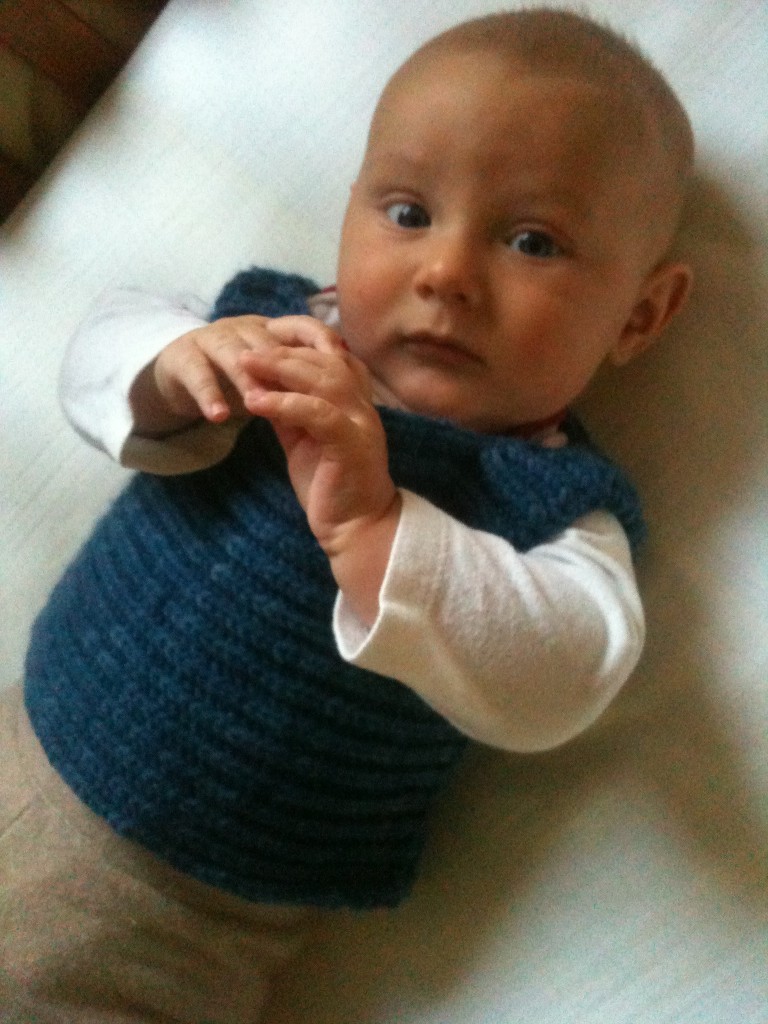 Every day he survives without being eaten all up by his own mother is a miracle. The adorable brioche vest he's wearing deserves better than a wimpy phone camera, but that's what was within reach when opportunity knocked. It was concocted by my friend Jen from yummy Blue Moon Mopsy and it couldn't be toastier. I wish it fit me.
And it's just the right garment now that the mornings are crisp and cold. These October days we are all awake before dawn. I bring the little fellow into our warm bed for the first feed of the day, curling around his small sturdy body, hoping he'll doze off again and we can all close our eyes for a few more minutes before the clamor begins from his sister downstairs: "I like walk through dis gate right now! I like eat some food!" But often I catch the gleam of his wide eyes seeking mine in the darkness; he is awake, and he knows I am awake, and he celebrates this simple discovery with much pedaling of legs and the performance of many songs of his own composition, songs to do with milk and moonlight and the felicity of suckable fingers. In another time or another place I'd have to be out of bed in the early dark, stoking a fire, drawing water, struggling to drive the cold out of our home and bring forth some sort of breakfast before the rest of my people woke to the day's work. It's a luxury to savor a sweet baby snug in my nest at a quarter to six. If only I were virtuous enough to remember this before I've had coffee.