Published on Saturday June 23rd, 2012
In short (which he isn't), he is here!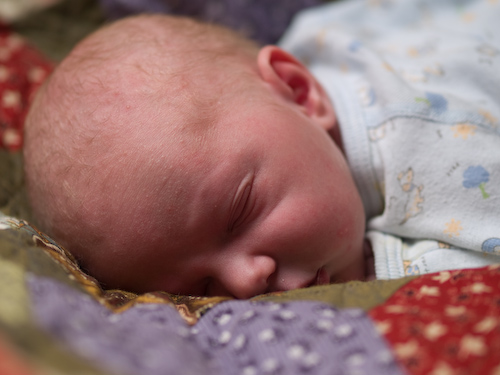 Jolyon Gregory, two days old
Our little man finally decided to join us in the beautiful summer sunshine on 21 June. He was nine days late and we had planned to induce labor at 6:30 that morning, only to receive a call from the hospital that they didn't have any room for us. The solstice had apparently inspired a great number of babies to head south. But by breakfast time I knew ours was coming of his own accord, so the nursing staff promised to set up a bed in a spare operating room or a broom closet for us if necessary. In fact, they were able to make ready an actual birthing room just as we arrived, and although we were disappointed in our hope of a second water birth, our fine healthy son made his entrance without complications at 2:42 in the afternoon.
At 8 pounds and nearly 14 ounces, he is not exactly enormous, but we calculated that he is 43% more baby than his sister was at birth. His head is 14.5 inches around and he managed to wedge one of his man fists between it and his surprisingly muscular shoulders, so he did a bit of damage on the way out and Mama lost some blood, but the healing is going very well and we're lucky to have two sets of grandparents aboard for extra help. Jo proved himself a champion feeder right away and Ada is taking the whole thing quite gracefully, eager to help Baby Bruddah find milk when he cries and supplying wipes for his diaper changes. She has given him gentle pats and hugs and has counted all his toes.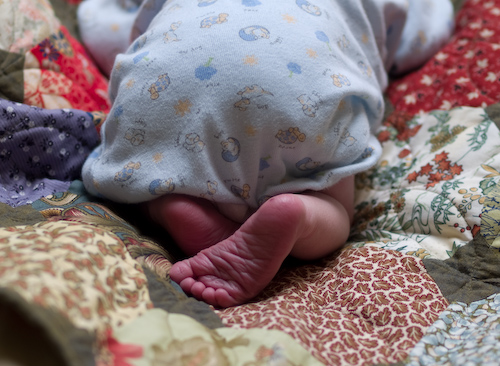 And so we are four! Mama needs to cast on some much, much larger hats…