Published on Sunday September 30th, 2007
Yesterday evening I donned my favorite stripey tights, a cute skirt, my Hourglass Sweater, and my best chocolatey Sherwood Forest boots, and I took myself off to the book launch party for Kristin Spurkland's The Knitting Man(ual). Anyone who keeps a man of any size at home knows that good knitting patterns for blokes are scarce as good ideas in the White House. (Oops, did I just write that? Ahem.) Kristin's new book, I'm delighted to report, goes a long way toward amending that. Her patterns are simple and clean, thoroughly modern but respectful of tradition. Click the link above for a peek at a few of the clever designs. And there are many of them in this generous collection. Mr. Garter took a gander when I brought the book home, and after he finished rhapsodizing over the handsomely shaped Saturday Morning Slippers (who knew the guy wanted slippers so badly? I feel so guilty that I never asked before!), he had praise for nearly every design. This is the kind of book that keeps on giving: the clean and inviting design of the book itself draws you on, and the good patterns just keep coming. Twenty-two are listed in the table of contents, but some are groups of patterns (a trio of individual hats, for instance) and many include additional directions for variations. Mr. G deemed the Everyday Sweater particularly alluring: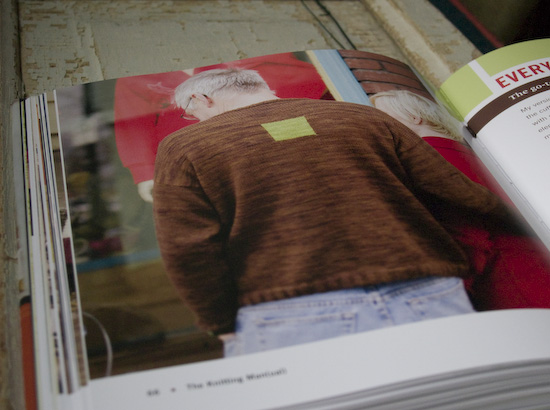 It's just a brown wool pullover in stockinet — the perfect staple for gents who want a sweater to coordinate with all three pairs of their trousers and all twenty-seven of their geeky tech conference T-shirts — but the unexpected green square on the back elevates it to memorability and most likely to Favorite Sweater status.
Me, I've lost my heart this one: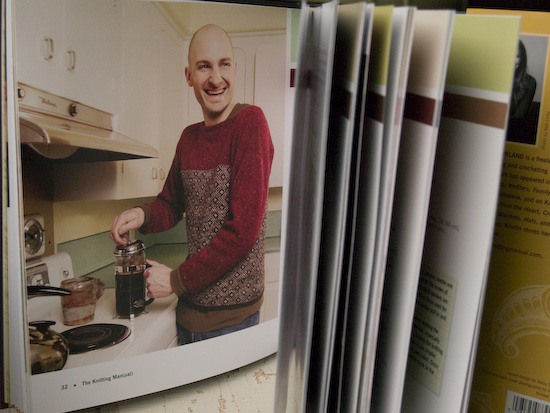 It's the kind of thing you'd knit for your sweetie just so you could steal it back. I've always been dubious about the faintly tacky hand of Rowan Felted Tweed on the skein, but the sample was soft as a bunny's underpants — the stickiness was gone and served only to lock those colorwork stitches into place and to adhere the floats to the fabric. You could be nekked under there making your French-press espresso in total comfort.
It's possible my first blush of allegiance to this book could have been influenced by the delicious handmade pretzels and free-flowing Bridgeport Ale at the signing, but the strong designs will keep me coming back for inspiration and counterchecks in my own work, and I feel certain that several of these patterns will be on my needles once the next wave is complete. Thanks and kudos to Kristin for her strongest book yet, and I'll be looking forward to the next one!