Published on Thursday September 24th, 2009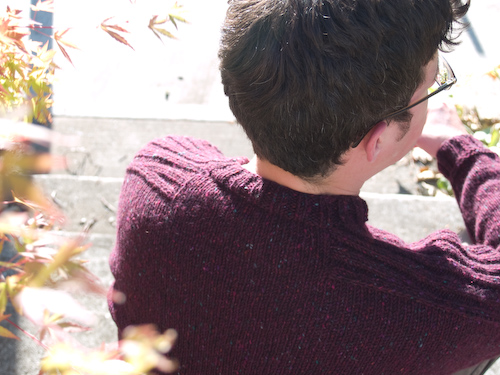 It fits. The sleeves are a bit narrow and will be revised before I offer this pattern, but it works for Mr. G. We will have a proper photo shoot this weekend if time and lighting allow, but this little hint shows off the bits I'm most proud of anyway. See the shoulder gussets that allow a comfortable fit around the neck without having to slope the back or front at the shoulders? This unusual feature is what attracted me to the sweater in this historical photograph from Gladys Thompson's excellent Patterns for Guernseys, Jerseys & Arans: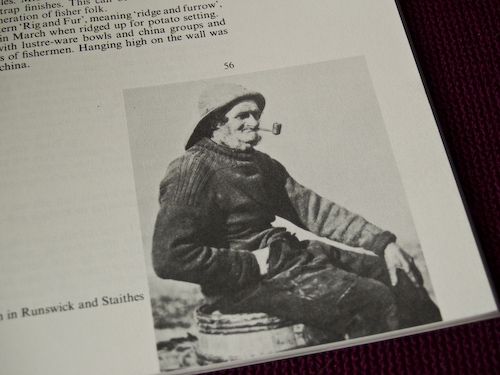 Tempting as it is, I probably won't require my beloved to don a sou'wester
and smoke a pipe for the official photoshoot.
Nor am I certain my considerable attraction to him could sustain a gnarly neck beard,
so we won't be going for that authentic touch, either.

I love this book for its treasury of sweater designs and careful attention to the differences from one little cove's worth of knitters to the next, and also for its photographs of crusty old fisherman. This is only one of the fabulous portraits it offers, although Gladys writes that it's her favorite. I couldn't tell, though, what might happen at the back of that particular old sweater, so I had to devise a way to raise the neckline at the back, as you see above.
See, too, how the maple leaves are changing. A last gasp of summer came through in the guise of a blustery hot wind that littered the sidewalk with roughly four thousand treacherous gum nuts from the hundred-year-old trees in front of our house, so it's officially raking season. I'd like to pretend there's another month to go before we really reach leaf fall, but I fear for the neighbors' ankles. Our sweet gums are fine handsome old trees, but they are more accomplished than any other tree at protracting the drop of their pretty, star-shaped leaves over many months and then continuing to bombard unsuspecting passers-by with their spiky seed pods even after the leaves are gone. This year I see they are celebrating their centennial by growing a number of large clusters of conjoined pods, like gum nut rat kings, which will prove especially uncomfortable if they drop on people's heads. You may wish to wear an old-timey felt hat for protection if you're strolling in the neighborhood… fair warning. Luckily, I own several. I may need to knit a few more.
Thank you all for the excellent resources on intarsia in the round that flooded the comments! Special appreciation to Rodger, who tipped me off to an excellent book that was already right under my nose. I took Priscilla Gibson-Roberts to bed (um, you know what I mean) that very night to read up. I have begun a swatchcap to practice my Invisible Join 1. (I tried Invisible Join 2 at first, but it quickly got the better of me and left my circular needle locked in a contorted figure 8. I am sure this is my fault and not Priscilla's, but I was too tired to work out what I'd done wrong.) We'll evaluate the results together in a couple of days.