Published on Tuesday April 26th, 2011
In July of 2009 I started a green linen top from a 1932 pattern collected by Jane Waller and Susan Crawford. I ran aground when I realized it was going to be far too short in the torso and so I put it aside. Last April I picked it up again, bought another skein of Euroflax, and figured out a solution. But by the time I was finished, I was too pregnant to fit into it. Into the drawer it went, where it rested patiently all summer, fall, and winter. And now, at last, it can take its proper place in my wardrobe.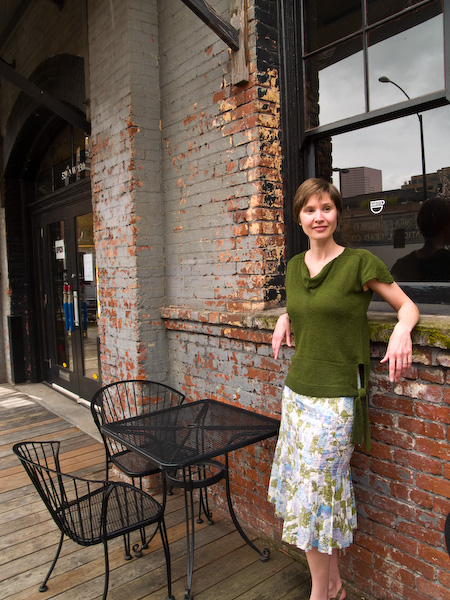 I love it! Linen is a fiber that demands its pound of flesh up front: it's rather hard on the fingers during the knitting. But it just gets better and better with wear, and it should last forever. Want a closer look at the bit I had to re-engineer? Sure you do.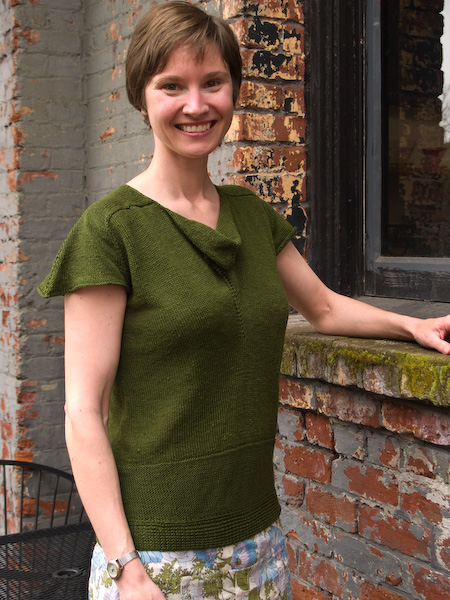 That line across my middle was the original cast-on. I think we can all agree the resulting top would not have flattered my figure one bit. So I hatched a plan to pick up stitches and work downward to get a better length and more of a flapper look. That seam was going to be visible unless I cut out the original cast-on out entirely, though, and I was feeling a little too lazy for that. I indulged the impulse to just pick up stitches and go on the rationale that the reverse stockinet fabric is also exposed at the cowl — why not emphasize the transition on the torso by turning the purl side out there, too? I made a few other changes as well — I abandoned what seemed to be a sloppy-looking 1 x 1 rib at the shoulders, and I neatened up the look of the sash at the bottom by working a twisted rib there. I also made the sash much longer than the pattern specifies. (Everyone else on Ravelry did, too, if they didn't scrap the idea of tying it and use buttons, so I suspect the given length is an error in the instructions.)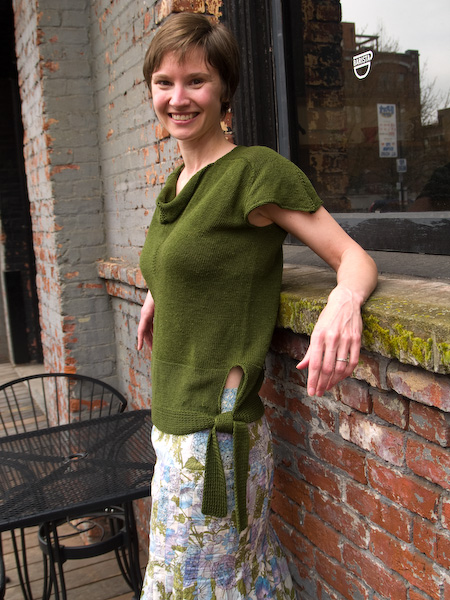 (And yes, it's a little bit peekaboo there at the side since I'm not wearing the undergarments or high-waisted skirt that would have been assumed back in 1932. Of course, neither am I wearing the conical bra that would have yielded the preferred silhouette of the era.)
Verdict? I love this top. Every so often I swear off knitting summer garments because they always disappoint me, but this is an exception. And I'm still so enamored of this shade of green. I'm going to be wearing this all summer… as soon as it stops spitting rain and gusting wind, that is.