Published on Thursday January 7th, 2010
Thanks for your responses to the last post, everyone. Seanna Lea offered a useful nudge to remember to give the good parts their full measure rather than letting the bad color the general memory, and that's advice I'd do well to take to heart right now. So here's a good thing from 2009: my friendship with Katrin and our cozy almost-weekly knitting sessions. This (last, I guess) year they culminated in a New Year's Day exchange of Ivy League Vests: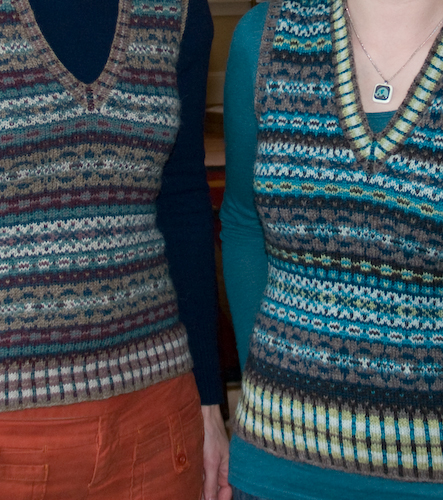 Hello! We are the same, but different!
Don't you just love how a few color shifts can totally change the effect of a Fair Isle-type pattern? Two of our lights and two of our darks are quite similar, but the two other colors — chartreuse vs. mauve, chocolate vs. burgundy — and the brightness of Katrin's white and blues give the two vests very different feels.
I've already worn mine about four times. Long live the Annual Christmas Knitting Exchange!