Published on Wednesday October 1st, 2008
Mr. G: Nice sweater in the tub, btw.  me likes!!
YT: It's a skirt! 😀 But now I think we may have to take a picture with me
wearing it as a sweater. You didn't notice its lack of sleeves?
Mr. G: … well…uhm…well…uhm.  You usually add the sleeves at the end and I thought you were perhaps pressing it out to take some photos before finishing it up.  ok ok… I didn't look THAT closely… I just liked the texture/pattern and the ruffle at the bottom (shh..mum is the word about liking ruffle!)
YT: A gent is allowed to like a ruffle fluttering about his lady's knees,
isn't he? Hell, why else have we been sewing ruffles to our clothing lo
these many centuries?
Mr. G: it is still not MANLY to state that one likes ruffle.
YT: I have to warn you, it's getting very tempting to share this dialogue in
a blog post.
Mr. G: can it be anonymous?
Nope – sorry, honey. I don't think there's any way to sell the readers on the notion that a random anonymous man happened by our bathtub and peeked in at the garment blocking there. I guess it could have been a plumber (lord knows we need one to look at our two leaky sinks), but he'd have to be a pretty forward plumber possessing intimate knowledge of knitterly habits, and I'm guessing there aren't too many of those. But we can, finally, show some pictures of the Indigo Ripples skirt I've been picking away at all summer long.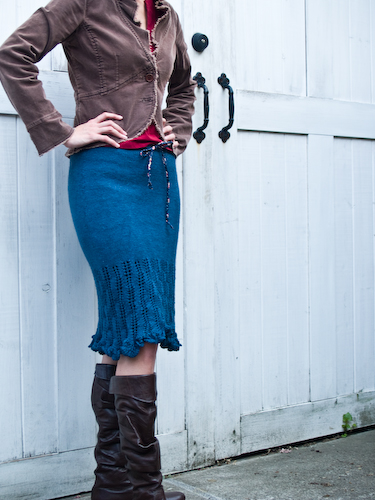 Note its distinctive skirtiness. Les specs:
Indigo Ripples skirt, by Kat Coyle, Interweave Knits Spring 2007
Classic Elite Soft Linen, 6 skeins, Kentucky Blue
US #5 needles
Mods: I lowered the waistline, altered the gauge and CO number, and lengthened the stockinet portion for a measure of modesty. (I'm wearing it with a black skirt underneath, and it's still a little sultry for a K-8 school workplace – I think this will have to be a date-night ensemble, so it's a fine thing we already know Mr. G likes the ruffle!)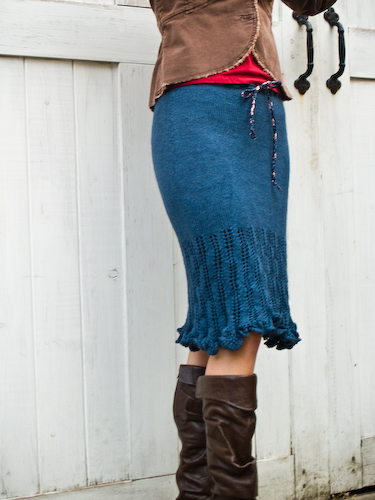 I also dispensed with the i-cord drawstring and sewed one from my fabric stash instead. Here's a close-up of the lace portion: I love the optical effects of those shifting mirrored increases and decreases: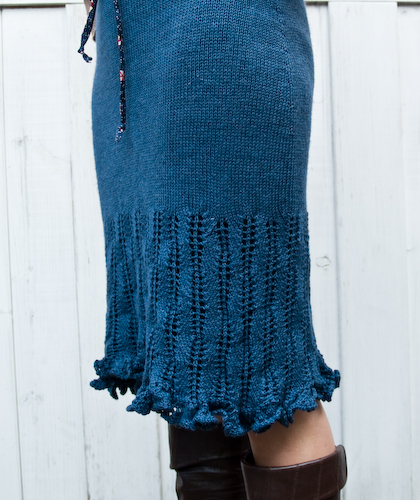 I don't know how many knitted skirts I'll be making; ultimately I have my doubts about their practicality. But I like this one, and I loved working with the Soft Linen yarn, a wool/alpaca/linen blend that should be perfect for autumn wear. I totally concur with Clara Parkes's review of it, and I'll be interested to see how well the fabric holds up to, well, nether wear.
Thanks to Mr. G for the pictures, which look a lot more va-va-voom than I was feeling: we'd just returned from a long weekend of backpacking, and I was walking like a horseless cowboy. But more on that next time.