Published on Thursday September 15th, 2011
We're having the first little rain shower of the season, the setting sun gilding the mizzle and a delicate breeze ruffling the skirts of our big sweet gums. Dressing in haste this morning to get Ada to nursery school, I put on wool socks for the first time; they weren't necessary, but they were at hand and didn't seem like a terrible idea. Autumn isn't here, but it's imaginable. So here's a teaser glimpse of a new design I'm hoping to finish up soon: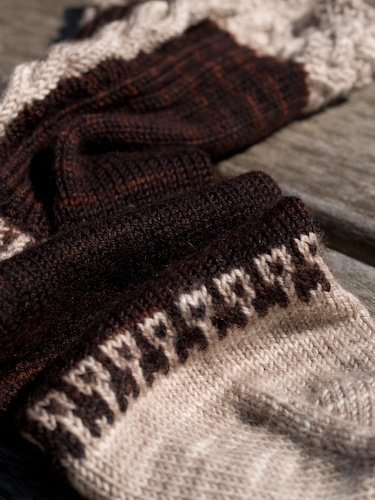 Apparently I really am a tease, because the only detail in focus in this picture of my test sock is one I've subsequently decided to alter. I am fond of that little row of flowerets, but they're too prim and static for the rest of the design. I'll use them again on a plainer sock where they can hold the spotlight. There's more work to be done on the cuff as well, so I'll be casting on a mate that won't quite match. I love both these yarns (although neither will feature in the real sample because this much contrast is difficult to photograph) — the moonlight neutral is Socks that Rock in an old colorway… Mica, I think? Remember when all the colors had rock names? And the espresso brown is Hazel Knits Artisan Sock in Chocolatier. Yum.
I tend to dash off on a whim when I'm designing and expect everything to fall together. Sometimes it does and sometimes it doesn't. This sock has been a doesn't — apart from the change I'm making to the toe, I've tried several different cables and two other cuffs and I'm still fine tuning. But the original vision is still leading me on and I have the sense it's worth pursuing. So watch for more this fall and kick me if it's not forthcoming!