Published on Friday October 15th, 2010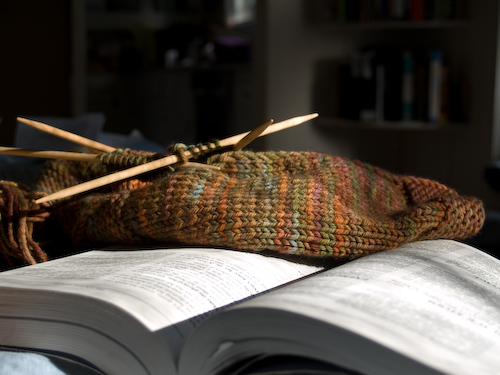 I'm one sleeve and five buttons short of a new jacket for Ada. It's got a hybrid round-raglan yoke, some garter stitch, some stockinet, and some slipped stitches for extra style. I'm going to change a few things based on this prototype, but I have to say I'm pretty happy with it. And the yarn, too — I finally stopped chiding myself to knit from the stash and bought some Malabrigo Twist. I've got two skeins of Liquid Ambar (and I can see how liquid amber sounds more poetic than pitch). I'm cutting it close on the yardage, though. Good thing I didn't bother to swatch, right? I knit most of this while we were most pleasantly putting our feet up in Friday Harbor a couple of weeks ago. A cooperative baby who was strangely amenable to being propped among the couch cushions at the yarn store allowed for the knitting of the first sleeve on a rainy day last weekend. We'll see if such favorable circumstances can be reproduced this weekend to finish it all off.
Speaking of babies, I love the sleepy stretching before they wake up: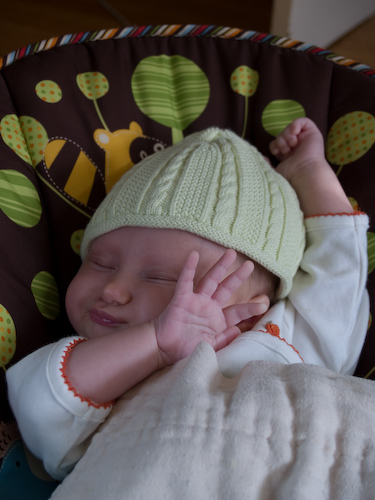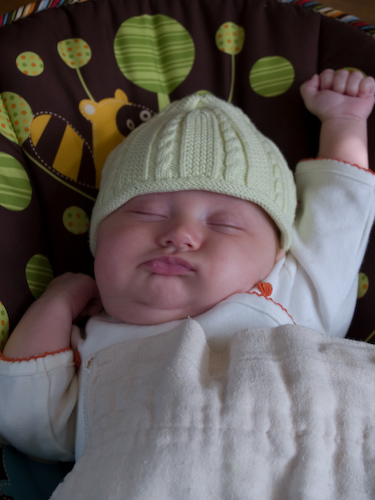 Yeah, that's a commercially knit hat. I have no excuse for not having made her a better one yet. Or a pair of mittens, for that matter. Except that I'm all about the little jackets right now.