Published on Friday January 11th, 2008
On a whim, we went to the coast yesterday. Mr. G's parents have a little beach house south of Lincoln City, an unassuming and somewhat mildewy little pre-fab that shudders when the washer goes on spin cycle and will someday be demolished and replaced with a sturdy and charming cottage, but a beach house nonetheless, nicely nestled on an estuary teeming with grebes, buffleheads, herons, and gulls of every stripe. Mr. G was feeling knocked about after a presentation he felt he flubbed, and I had two days off in trade for working this weekend, so we packed up the dog and a change of underwear and off we went. We got a late start, but there was light enough when we arrived to cross the footbridge and tramp over the dune to see the wild waves.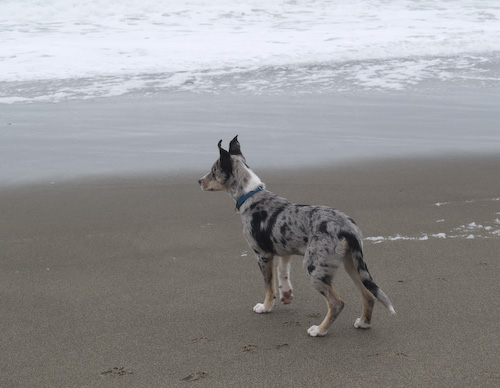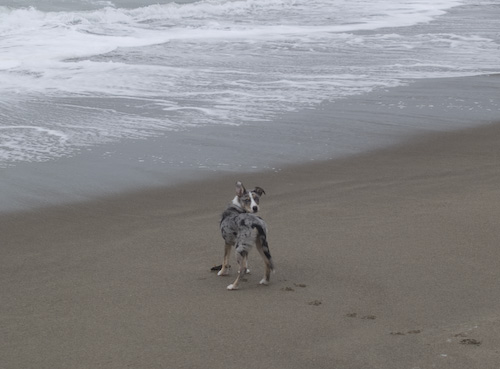 Our tough Texas pup found the ocean quite alarmingly vast, noisy, and wet. She treated us to an operatic account of her concerns, with brief intermissions to chase irresistible shreds of blowing foam. Not even a cuddle could convince her we weren't all in mortal peril.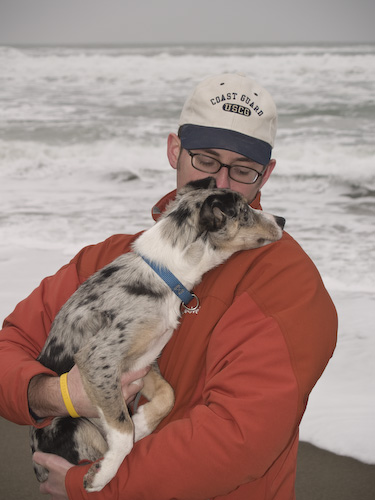 (Look how big she's grown!) Once the sea was out of sight, she was her happy inquisitive self again, and we had a quiet evening of knitting, working, and snoozing by a smoky fire that snorted at Mr. G's boyscout smarts and required near constant stoking. I've been knitting this mitten:
I had a hankering for some colorwork, so last Sunday I decided to cast on and reverse-engineer this mitten from a picture in this fabulous coffee-table book of Norwegian mittens that was floating around at the yarn shop last year. The book was – you guessed it – written entirely in Norwegian, which I cannot read. Not a problem, as the book is plum stuffed with thorough charts. But as luck would have it, I fell for the design on a pair for which there was no pattern. Here's what I know about them: "Mannsvott fra Sør-Trøndelag, Trøndelag Folkemuseum, Sverresborg FTT 28549. Vottene er strikket av Bjørg Sliper fra Trondheim, til hennes svigerfar i 1946." I'm guessing that means they're men's mittens from a place called Trøndelag (which I have no idea how to pronounce), and maybe the knitter was named Bjørg Sliper, and they were either knit or donated to the Folkemuseum in 1946. Maybe some of you readers can help me out here? Anyway, I was drawn to the beautiful sprigs of berries on the cuff, and to the semi-botanical design on the back of the mitten. (Terri Shea refers to those windmills of foliage as pine boughs in her excellent Selbuvotter; I don't recognize the other elements, but I haven't read the book cover-to-cover yet. The next pair of (equally beautiful) mittens on the page in the Norwegian book is from Selbu and uses the same berry sprigs.) And wait until you see the thumbs!
Yes, that's a jar of Swedish cloudberry preserves modeling my mitten cuff – a cuff which was influenced by the advice of a certain Estonian, I might add – and the colors are non-traditional, and the yarn is woolen-spun Shetland, not a proper worsted Norwegian wool. This is not a strict recreation of an authentic mitten. A girl just needs a good pair of overmitts to wear to the dog park and a chance to indulge her mitten fetish, you know? But this girl also likes nerdy knitting history, so if you know anything about these patterns I'd love to hear it!