Published on Monday June 4th, 2012
Little baby things have been flying off the needles around here, as I've wanted to be sure this second child would have some special garments created just for him/her. It's also the only way I know to get ready: make stuff. And a soon-to-be-big sister mustn't be forgotten in the flurry of preparations, so on a whim I cast on a little top a few weeks ago. It's a sweet pattern called Neighborly; I snapped a hasty photo before Ada wore it to school in case it came home covered in glittery fingerpaint:
Pardon the bouffant that happens when Daddy gets fired up about brushing those curls. Not my favorite look for her. And yes, apparently we like to pose for photos with spinach — her idea. My little schoolgirl is not often so formally attired, though. When the vest survived its first foray to Montessori nursery (it was a water table day, so Ada's clothes needed some drying but were otherwise unusually clean) I took some new photographs that show Neighborly as she is more likely to be worn: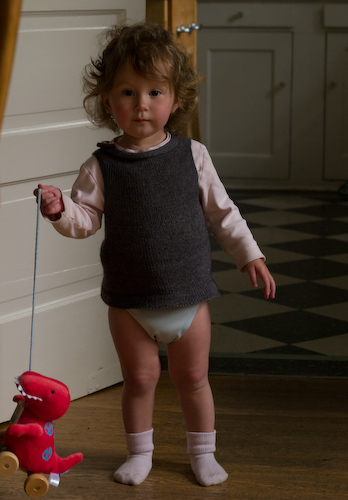 (Hair is back to normal, too.)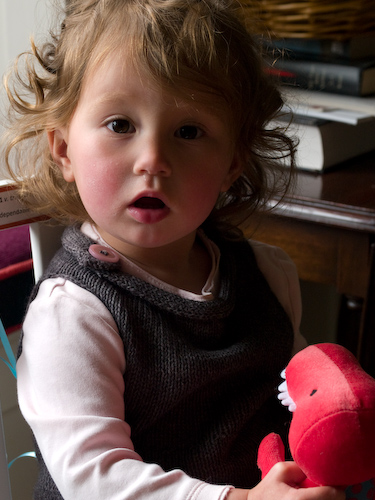 Now you can see the chief detail, the '60s-style button at the neck. Since I scaled down in yarn weight but still followed the pattern (it's a single size intended for a child of 3-5 years, so I just crossed my fingers a DK version would fit a toddler), the button band is less prominent in my version and the neckline is tighter. This was intentional; I wanted a summer-weight vest we could throw on over cotton shirts on cool days, and for someone who's less than two a big open boatneck would just be slipping off a shoulder or trapping stray food more often than not. I used Manos del Uruguay Serena, an alpaca-cotton blend, in a color called "sea urchin" that I couldn't resist. It reads as grey, but there are pleasing undertones of purple — just the thing to bring my girl's burgeoning wardrobe of pink hand-me-downs back into a realm Mama can tolerate. When it came off the needles it looked tiny and I thought we might have to gift it to our wee new friend Ingrid to wear as a dress when she gets to be six months old or so, but it blocked out to the perfect size for Ada.
I'm going to see how it wears before passing judgment on the yarn. It's sheddy up front, releasing a lot of short alpaca fibers in the bath before blocking and still having enough left over to adhere to a small damp chin at first wearing. But when she wore it today I didn't notice any problems, so maybe it's let go of all the fibers it needed to. The drape and hand are undeniably pleasant. And the color range is strong. If the shedding problem doesn't persist and it doesn't show a strong tendency to pill at this loose gauge (I used a #5 needle, I think), I'd be tempted to use it to knit myself one of those drapey, open cardigans that seem to be so fashionable.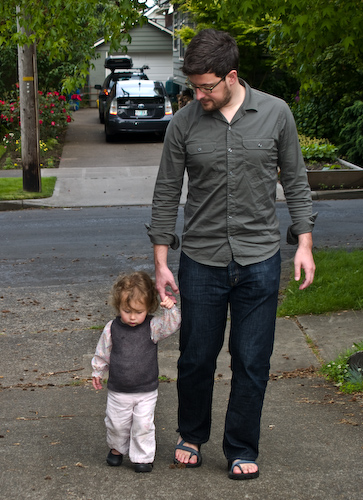 Oh, my not-so-big big girl. How is it you can count and read letters and load the dishwasher and tell yourself the stories in your favorite books and cross the suspension bridge on the play structure at the park and sing me little tuneless songs about slippery fish while still being so small? Will you suddenly seem like a giant in a few days or a week when you become my eldest child?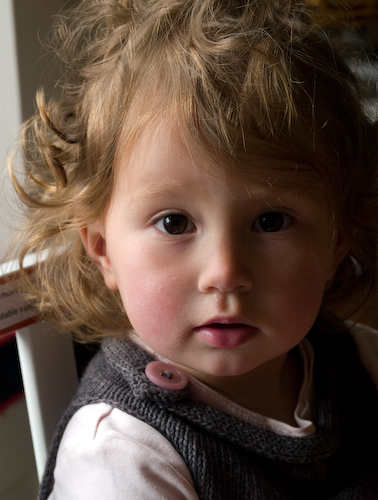 I've loved your babyhood, dear one. I'll love your girlhood, too.