Published on Tuesday March 6th, 2007
It springeth!
And in Portland, days like this in the month of March are the result of divine intervention. I snatched up the camera and went hog wild. And then I sat out on the deck and finished the Fishtrap Aran, because I knew it could be weeks before I got such another opportunity to bundle Mr. Garter into it and capture the momentous occasion on film.
Drumroll…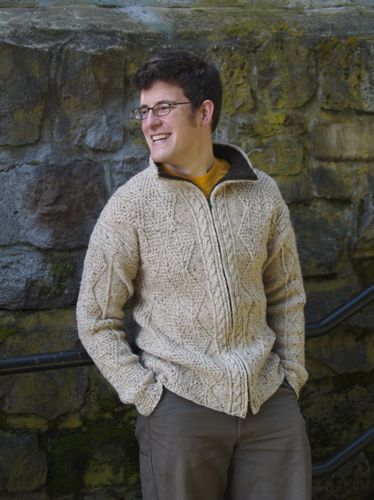 Elizabeth Zimmermann's Fishtrap Aran, the January project from Knitter's Almanac
Ancient Brunswick Ballybrae Blainin Tweed, resurrected from a 30-year-old project of Mr. G's mom's, plus some Rowan Yorkshire Tweed DK for the collar lining and zipper facings. Psst, want to see?

(Apologizes in advance for any retina damage caused by Mr. Garter's T-shirt. My man likes a little color.) The zipper is not original to the pattern, but I decided it would look more youthful and fresh on my hubby than a button band. Plus, it was a challenge: I'd never sewn one in before. Of course, cardiganizing* the sweater in any fashion was going to reveal the private insides. Not that Fishtrap's insides are unsightly, but you all know what the back sides of cable patterns look like. I felt they could use a little tidying, and I definitely didn't want my less-than-Victorian handstitching skills to show around the zipper. Grosgrain ribbons are favored by many for zipper facings, but they don't seem all that manly, somehow, and they stiffen the edge in a way that I worried would compromise the fluidity of the knit fabric. So knit facings it was. And i-cord trim to hide the zipper from the outside. Oh, let's have some more pictures.
Mr. Garter gets a little twitchy during photo shoots, but as the recipient of a such a nice sweater, I thought he owed it to me to submit to my every whim a few pictures. Okay, maybe thirty or forty pictures. He got a little goofy on his catwalk, as you can see. Doesn't he look like a beefcake in his handsome cardi, though?
It's a snug fit, as he wanted. He particularly specified that the body should not hang like a tent, and that it should fit closely at the hips. I went down a needle size for the first ten inches or so to ensure that this would be the case, and I think it was the right move. I'm particularly pleased about the sleeve length, too. Mr. Garter has very long arms, but I stayed the course. Actually, I'm particularly pleased about the whole darn sweater. It was a lot of work, but it was worth it.
Do I get a w00t, honey?
* Thanks to apparently blogless fellow Zimmermaniac MeowGirl for introducing this great verb into the knitterly lexicon.