Published on Monday June 21st, 2010
Friday was our fifth wedding anniversary.  It's ten years since I first knew I'd marry Mr. G and next year will mark half my lifetime that we've been friends, so I'd say we dance pretty well together by now. Not that we don't tread on each other's toes now and then or misinterpret the lead, but swing dancers who have come to learn and have a good time like to say a universal "I'm sorry" before the dance begins so they can jump in with good intentions and humor, and this kind of understanding works well in marriage, too. This is a busy time for us and we had my family in town for a weekend of  baby showers, birthday parties, and general merrymaking, but we slipped away to have breakfast together and luckily I had just the thing to wear to look nice for my beloved.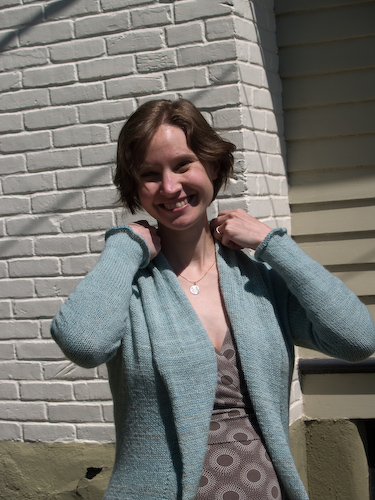 Pas de Valse! It was almost dry. And I've already worn it three more times — this one definitely goes on my list of knitting successes, and that's a relief. For one, I started it last November, before I knew I was pregnant. I didn't knit a gauge swatch, which is not behavior I'd recommend for a project like this. Once I got a few inches in and did bother to check, my row gauge was way off. I compensated by throwing in extra rows between the decreases. It still looked awfully short when I reached the armholes, given that it's supposed to fall gracefully to the hips, but I just crossed my fingers that the blocking gods would accept my offerings. By this time all those extra rows had blown the stitch count to smithereens; I'm not even sure I could tell you what I did with the front extensions except that I tried to make shaping decisions that would keep them looking proportional to the rest of the cardigan.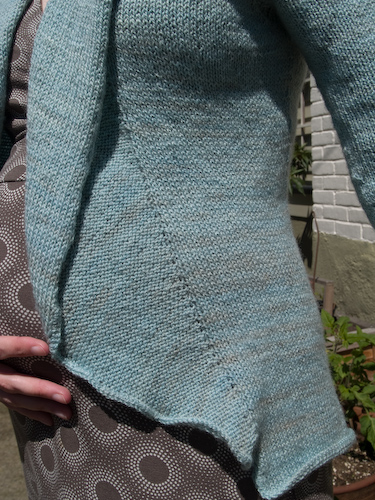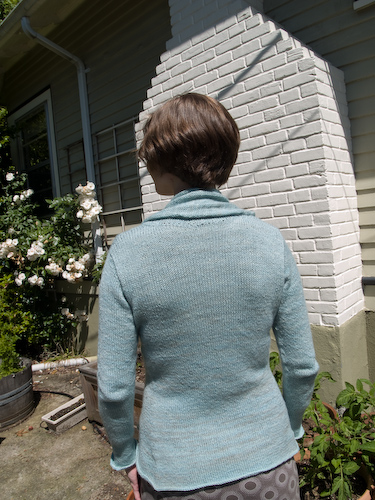 Somehow, it all worked. The length is perfect. The sleeves are perfect (and this hardly ever happens for me). I want to marry this yarn and have its woolly BFL babies. (A note on the yarn: it's Oceanwind Knits BFL Fingering, for which the pattern is written and on which I decided to splurge as a 30th birthday present to myself. Four 400-meter skeins were recommended for the 39″ size; I've got a full skein untouched and a good chunk of the third remaining, and lucky me because I'll totally use it for something else, but keep that in mind if you're thinking three skeins might be more within the reach of your budget. My colorway is Seabreeze, but I was sorely tempted by the Cranberry as well.) It's soft enough not to itch my neck at all, even with sensitive pregnancy skin, yet it's lustrous and far stronger than merino — breaking the strand will leave a mark and a sting on your fingers. Marnie MacLean's pattern is one of the most thorough I've ever worked from — so thorough that you have to keep your wits about you and read ahead of yourself repeatedly to make sure you're proceeding correctly — but it's worth the effort for a beautiful result.
Tomorrow I have to drive to the coast, which really would have been the ideal location for a Pas de Valse photoshoot… barefoot in the sand against the plunging rocks and pounding sea… but alas, I can't take my photographer with me. I'm totally wearing the cardigan, though. You'll just have to imagine it. In the mean time, my husband likes this silly contrast shot to end on: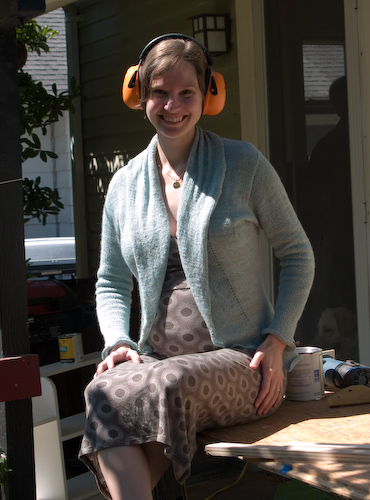 Look, our deck is now a construction area with a workbench!
(My parents never just come for a visit. They can't stand to loll about and actually be on vacation, so they do projects and build me things — on this occasion, custom shelves for a closet so it could become a linen closet and clear a bureau for Minnow's gear. Oh, and they painted a bookcase, too. They might come back next month to rebuild the rotten deck. Yes, they are exceptional parents.)