Published on Saturday February 9th, 2008
I have no shame when it comes to boosting other people's ideas, especially when those people are knitters as clever as, say, Jared. Six weeks ago he posted this fabulous rendition of Elizabeth Zimmermann's Shirt-Yoke Cardigan. I wanted one of my own, and I wanted it immediately. Happily, bulky wool and size 10.5 needles were invented for the purpose of instant gratification. I whipped out my Knitter's Workshop, and in a weekend of knitting, I had most of this: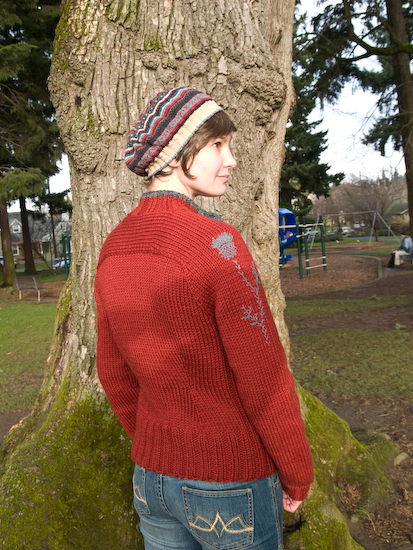 I added some darts up the back for a more womanly shape, but I always meant to copy Jared's idea for the side ribbing. (In fact, in my lust to knit an entire sweater body from one skein of yarn in a mere six hours, I forgot all about the ribbing. But a quick session with a crochet hook revived the dream – I simply dropped the appropriate stitches and hooked them back up purlwise.)
But whoa! What happened there on the front? Friends, I ran out of yarn. I knew it was likely. I was planning a direct rip-off of Jared's nice ribbed button band, but the third skein petered out just as I was finishing the collar. Being too impatient to order a fourth skein from the yarn shop on my little island and wait for more to come in and then for my mother to mail it to me, risking a dye-lot change in the bargain, I went stash diving. I organize my yarn by weight, and there isn't all that much in the bulky bin. But there were two skeins of this scrumptious Rowan Yorkshire Tweed, which I bought years ago to knit Kristin Spurkland's Flower Hat from the Winter 2004 Interweave Knits – the very first knitting magazine I ever purchased. I still think the hat is awesome, but I hadn't gotten around to it four years later so I figured the yarn was fair game.
I first envisioned a Barbara Walker Banana Tree pattern up the front, as seen in Starsky, but the tweed didn't show up the traveling stitches all that well. So I picked out this pretty Double Wave cable instead. It leaves handier spaces for button holes anyway. And then I think all the Jane Austen I've been watching on Sunday nights went to my head. Somehow it came to me that the big blue front panel would look a little less random if there were some sort of blue element elsewhere… like embroidery. Now, I can't embroider my way out of a paper bag. I'm sure any self-respecting six-year-old in Miss Austen's day could have whupped my arse in an embroidery show-down. But I'm all about leaping into the deep end with things I've never tried.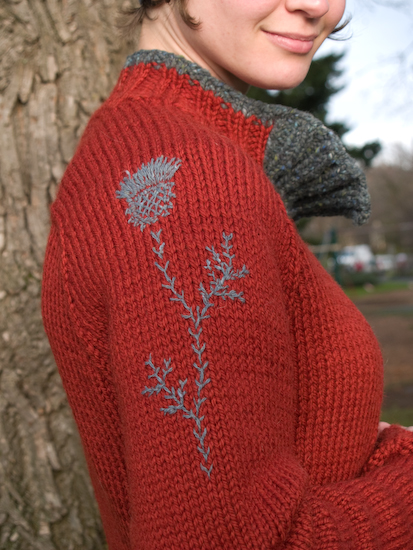 I give you the Blue Thistle Jacket. I've hardly taken it off since it (mostly) dried on Wednesday.
And psst… look who's grown!