Published on Monday February 9th, 2009
You know a new sweater is a success when you can't even wait to put the buttons on before you start wearing it. Happily, Amanda is a versatile girl who looks as well elegantly fastened with a pin.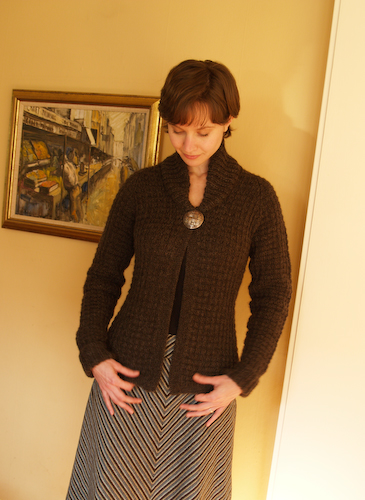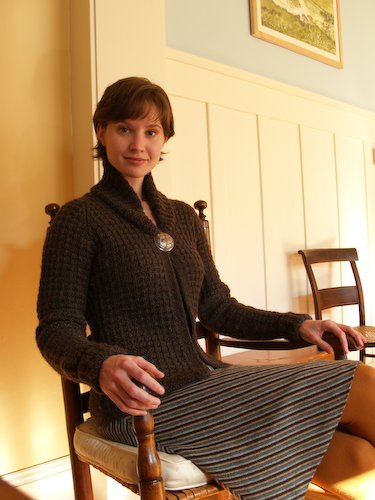 You also know you've got a hit when the presumably non-knitting guy about to brew you a delicious latte tells you it's a great sweater before he even takes your order. Compliments in Amanda's first five minutes in public? Yes, please. And my husband was standing right beside me, so I think it's safe to assume it really was the woolen garment he was admiring. Amanda is the flatteringest heavy wool sweater in my collection, though. Thanks to some waist shaping I added to the pattern and the fact that I knit under gauge to aim for a sleeker fit, she's a svelte little piece.
I love, love, love the Bellwether Wool Co. Wensleydale, which is, on the practical front, toasty and not maddeningly itchy at the neck (I'm not very susceptible to wool-itch anyway) and ought to last a lifetime and, on the aesthetic front, lustrous and gorgeous and perfect for this waffly stitch pattern. I think Lois is out of this natural dark color until the summer, but if you let her know you're interested I'm sure she'll contact you when there's a new batch ready. I'm delighted that I have leftovers enough to do a yoke pattern with them… perhaps Elizabeth Zimmermann's Aspen Leaf pullover.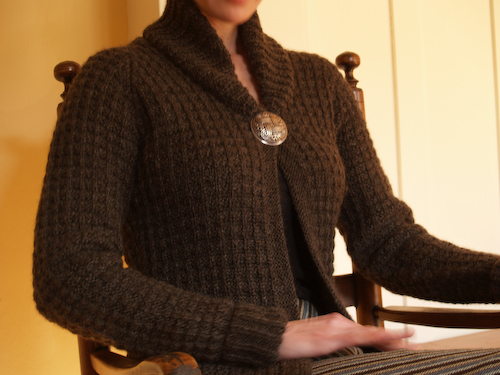 Meanwhile, I'm going to be wearing Amanda in heavy rotation while the cool weather lasts. She's my new favorite sweater. Exterior edition to come when the buttons arrive and I figure out how to make the cufflink fasteners. I'll be undoing the bind-off row on the solid buttonband, dropping down three stitches and working a buttonhole in seven places to match the other band, and then hooking the stitches back up and redoing the bind-off. Stay tuned…