Published on Thursday October 8th, 2009
I realized I've been keeping you all in terrible suspense about the state of my possibly piratish eye. Turns out it was just irritated and what I thought might be a flap of peeling eyeball was only cornesomethingsomething, or a weird eyeball wrinkle with a six-syllable name I forgot as soon as the eye doctor pronounced it.  She gave me some eyedrops and sent me on my way.
So off we went, patchless and parrotless, to Friday Harbor for a long weekend. I escape up home whenever I can, and this looked like the only opportunity until New Year's.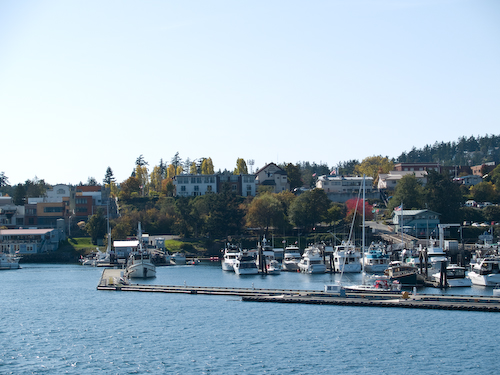 My parents are building a new house perched on a knoll in a madrona grove. You can see Mt. Baker, the Olympic range, and even Mt. Rainier on a clear day from the site. It was not that clear a day, but the last sun filtering through the trees and warming the valley below was delicious. This stone patio is going to get a lot of use, I'm sure.
(Yes, it's funny that the dog's belly appears to be the light source in the picture.
"Darling, it's a bit dim in my reading corner. Would you turn on the Labrador?")
Pssst… spot the handknit socks? I'm not sure you could miss them given the comical length of the pants I'm wearing. I am not so good at packing hastily, and although I dried and retrieved the last round of laundry before we left, I did not take my jeans from the basket and place them in the pile of clothing to take north. So I borrowed pants from my mom, who isn't as tall as I am.
Next time I'll tell you about our trip over to Lopez and the exciting wool I brought home. Yes, it was a good weekend in more ways than one!