Published on Friday May 2nd, 2008
The Ivy stole edging is a marathon, not a sprint, or even a mid-length training run. I'm on row 19 of 50, and those rounds are getting longer and longer – something in the neighborhood of 1700 stitches at this point. It takes me a standard-length movie to do two rounds; a showing of Planet Earth New Zealand (aka The Fellowship of the Ring) the other night was good for a whopping 3.5 (it would go a little faster if Addi would make the Lace Points in the size and length I need). I just ran out of the second ball of ArtYarns Cashmere I – thank goodness I had the foresight to pick up a third skein of the same dyelot when I noticed the new shipment at Knit/Purl was a slightly different shade! It's pointless to show you pictures of my progress: the edging is picked up on a 47″ US #0 needle, so all there is to see is a big scum of lavender froth with stitch markers around the edge.
I'm almost done with a secret project for Shibui, so naturally my mind has wandered to what's next. I've got something in the hopper for Popknits that I'm very excited to cast on, and I've been mulling over possibilities for the new Casbah. The confluence of the new Interweave Knits summer issue with Megan's post about knitting cowls with doubled sock yarn turned on a light.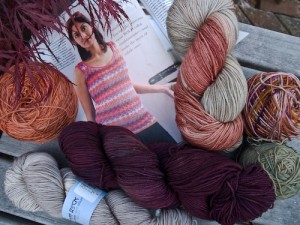 Look at all the complementary sock yarn I already have in the stash! Counterclockwise from the left, that's Socks That Rock Lightweight in Amber and Mica, Dream in Color Smooshy in Gothic Rose, Lorna's Laces Shepherd Sock in Cedar, Socks That Rock Lightweight in one of the colorways with rock names they don't seem to offer anymore, and of course the Casbah. All mostly superwash merino. Of course, a worsted-weight wool tank top makes no sense. But what if I shortened the body of the Confectionary Tank and wore it as a vest next fall? I couldn't help myself. I started swatching.
The design-minded among you will notice that the sidebar's looking a little less scraggly. I owe Mr. G for this. You'll also see there's a link to his company website: one of the reasons I knit so much is that my partner for social activities is pouring all his energy into launching a small business. I think you can only know what an effort that requires if you've actually done it yourself. We certainly didn't comprehend what we were in for when we took the decision for Mr. G to leave his job to work on SweetSpot full time. We saw a need within his family for better communication about his father's diabetes; we saw that Adam had the skills and the passion to do something about it and to extend the project to other families in the same situation. He'd wanted to start a company of his own for years, and we thought now was probably the time to try: we don't have kids, I have a job, we have some savings put by to cushion us for a year or two. Neither of us fully imagined the emotional drain, or the way every conversation we have would turn to the business, or the frustration of trying to bring in the support and relationships necessary to sustain a worthy one-man project. But SweetSpot is out in the world now, and if you or someone you care for lives with insulin-dependent diabetes, you might find that Mr. G's service can help in the daily work toward wellness. It fetches, stores, and analyzes information from blood glucose monitors, and it offers a teamwork structure to make family participation simpler and more constructive. It's free to try it out, and if you have any questions, the CEO himself will take your call in his handknit socks. How many companies can say that?