Published on Sunday January 27th, 2008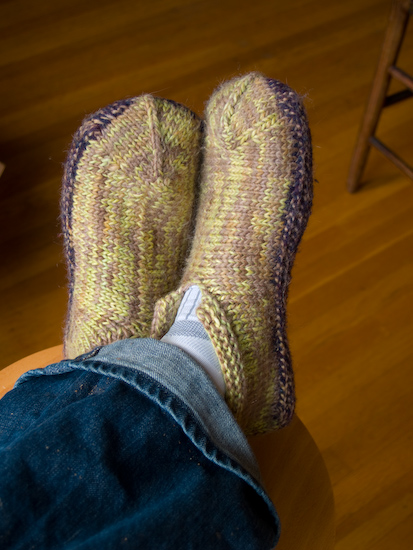 I finally brought about the trifecta of Mr. Garter's Christmas slippers, Mr. Garter's feet, and the camera in a decent pool of light. These are the Saturday Morning Slippers from Kristin Spurkland's The Knitting Man(ual), and I'm proud to say that Mr. G has been wearing them regularly since the 25th of December. The yarn is Steadfast Fibers Wonderful Wool in driftwood and groovy green above, and the Wonderful Wool driftwood carried with Green Mountain Spinnery mystery wool on the sole. The Wonderful Wool is basically Lamb's Pride's plant-dyed cousin from a little company in Idaho – it's an Aran-weight wool blended with 15% mohair, and it makes excellent mittens and slippers and wears like iron. I don't even like to think about how long it's been in the stash, but now it's keeping my husband's feet nice and toasty.
This project was more of a wrassle than a knit: two strands of worsted on size 8 needles in a twisted garter stitch is enough to make your hands beg for mercy. But I fought through them, and since I wasn't sure there was anywhere in the house I could dry a dense woolen garment in two days without the recipient finding it, I got a little creative with a toolbox and the dehumidifier in the stock room at Knit/Purl. I'm here to tell you there's no faster way to dry your handknits than to suspend them over the dehumidifier from the handles of two hammers balanced on the fuse box. They were bone dry the next morning and ready for wrapping. It's nice to have an option for sturdy slippers that doesn't involve felting. And Mr. G's pleasure in wearing them means the pain was worthwhile.
While I may be devoted to my husband, my pal Patrick recently accused me of having knitterly commitment issues. Fair enough: from where I sit I can spy the basket containing my Gee's Bend Log Cabin blanket, my Lily-of-the-Valley corset, my Lotus Blossom shawl, and my Frost Flowers sweater. It's been at least six months since I've touched a single one of them. In the mean time, I've cast on roughly nineteen new projects (thanks, Ravelry!). Fourteen of those are finished, five are on the needles, and I've flirted (meaning I swatched, which doesn't count as casting on – it's like first base) with two more. Mr. G will kindly cover his eyes while I tell you I sassed Patrick that commitment is for poor souls who don't have a different tasty morsel for every night of the week.
Seriously, do you believe in monogamous relations with your knitting projects? I clearly don't, but I think the record will show that I finish the ones I start more often than not. I crave variety is all. Last weekend I realized I wasn't actively working on anything with a needle larger than a US #2. There's the Trøndelag mitten on #0s, an 80-stitch sock on #0s that I can't show you yet, and the Ivy lace stole on #2s. A hankering to knit something instantly gratifying drove me to the stash after the bulky cinnabar Perendale wool, and in two days' time I had a cardigan up to the armpits and a sleeve ready to join it. I busted out another half a sleeve this afternoon. If I don't run out of wool, this will be my fastest sweater ever. I'm not a big-needle gal, but the #10.5 whoppers surely do crack along! Patrick will be lucky if I don't call it the Wham-Bam-Thank-You-Ma'am cardigan.
But just to prove that I haven't dropped the torch, I give you Ivy stole progress:
That's about a third of its total length, not counting the edging I get to pick up and knit with a 47″ #0. Two chart repetitions per week should leave me the whole month of April to gnash my teeth over the edging and half of May to block it with seventeen porcupines' worth of pins. Don't begrudge me my other liaisons will I can still get them.