Published on Monday September 15th, 2008
I did it: I swatched every last inch of yarn on Lois Olund's sampler card. It was Saturday; I needed a break from ten hours of throwing down (and mostly taking it on the chin as only a self-taught novice can) with InDesign to get the school's next journal issue to print by noon tomorrow. And anyway, it doesn't take long to knit nine yards of yarn. I got out a variety of needles and cast on.
I decided to work from bulky to fine, so I began with the 3-ply bulky Wensleydale spun by Zeilinger's Wool. I put six stitches on my US #10.5's. The 3-ply is an honest wool. Not soft, but beautifully balanced and pleasingly plump. If you were planning, say, a late-November moose hunt, this is what you'd want for your sweater. For the rest of us, a pair of thick, workaday mittens would be just the ticket.
When the 3-ply ran out, I brought in its little brother, the 2-ply bulky from Zwool, and traded my #10.5's for #8's. The stitches aren't as plump, obviously, and it felt rough and twiny as I was knitting it, but at this firm gauge (it could take a US #9 needle), it made a nice, cohesive fabric that was softer than I would have guessed, and should improve after a bath. Again, I thought mittens and a hat, and maybe a hard-wearing outerwear sweater for crisp fall days.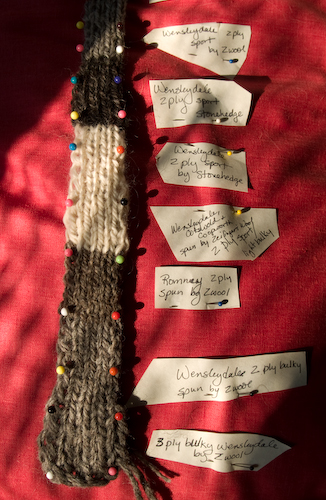 Since I was proceeding by weight, next up was the Romney 2-ply by Zwool. As soon as I uncoiled it from the sample card, I imagined I'd like it. It's more tightly spun and had a pleasing, balanced springiness just draped across my hands. But can you tell in the photo above how uneven the stitches look? Because of the high twist, the right and left "legs" of each stitch look markedly different. I like the feel of the fabric, but it's got this earthy texture that you'd have to embrace. We'll see if a soak helps even it out.
The next yarn — now we're up to the white strip — was a Wensleydale-Cotswold-Coopworth blend, again spun by Zwool as a 2-ply sport/light bulky. Again, a US #9 might have been a better bet, but I went along with my #8's to see what would happen. I could have picked this yarn out from the bunch blindfolded: it has a distinctive feel that I might describe as dry-slick. I imagine this is due to the blend of three long-stapled wools and the tight spinning: the yarn has very little halo, so there aren't a lot of ends left free. You'd get nice stitch definition and it ought to be great for cabled projects.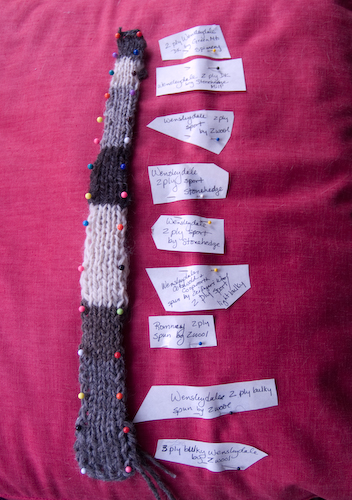 The first of the Stonehedge-spun Wensleydales came next: the whites blend together in these photos but if you look closely you can see the change. Oh, the bliss of the 2-ply sport sliding across my fingers! The fiber preparation and spinning is so different between the two companies you'd never know you were knitting with the same wool. Stonehedge's yarns are silky, soft, and lustrous. They won't wear as hard, but the knitting is like gliding across a frozen pond in a pine forest shrouded by falling snow, and the fabric begs for next-to-the-skin wear. The longwool is almost like kid mohair in its sheen and sleek feel, which are most apparent in the natural white color. This yarn reminded me of Brooks Farm Duet, a kid mohair-wool blend I used for my Hourglass sweater. The 8's were a bit large for it, but I wanted to see how it would drape and bloom at the loose gauge.
I changed to US #7's when I brought in the natural brown-black version of the same yarn, and then I was really in heaven. The fabric is soft and cohesive. There's enough heathering to provide a lot of visual depth, and the gentle luster of the Wensleydale gives it a gloss as well. This is the one I fell for: I'll almost certainly order up enough to make Lisa Lloyd's Amanda cardigan, because the thought of that gorgeous shawl color snugged around my neck is compelling even on an 80-degree late-summer day, and the beautiful heathering will perfectly complement the quiet texture of the checkered stitch pattern.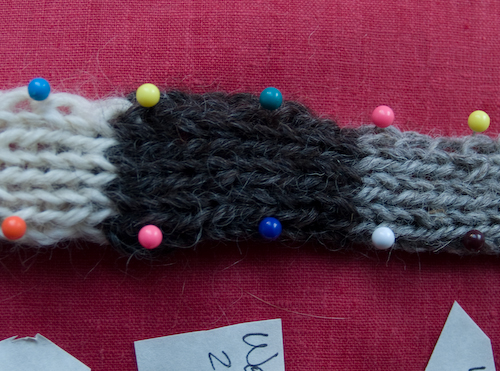 It was hard to come to the end of the chocolate Stonehedge-spun 2-ply sport and switch to Zwool's interpretation of the same weight. I liked the pretty gray heather, but this was the twiniest, roughest feeling wool of them all. Again, it makes quite a nice fabric, and I suspect this could be the ugly duckling that surprises me after I wash my swatch strip, but the knitting wasn't very pleasurable in comparison to the experience I'd just had.
But lucky me: next up was a 2-ply DK by Stonehedge. It's quite a light DK, so I went down to US #3's. They were metal needles this time, so I really had the skating sensation – a little too much so. I'd probably stick with wood for this yarn for a little more grab. But oh, how it flows through the fingers! Delicious.
The last wool was the Green Mountain Spinnery DK. My little coil of it looked thin and a little weedy compared to the other yarns on the card, although I favor the natural black color. I worked this on my #3's as well, and I was impressed by the pleasing balance of the plies and the even fabric they produced: I know this is hard to achieve with a 2-ply yarn. Those Green Mountain folk know their stuff. This would make a beautiful lightweight sweater – I'd probably stick with plain stockinet, because there's a lot of heathering and some frizzy ends that would tend to obscure any patterning. I'm also not sure I'd want it right up against my skin at the neck, so I'd imagine something with a boat neck or a large-enough V-neck that a shirt underneath could protect me from the scritchies.
Now it's off to the bath to see what alchemy some warm water and a little Eucalan can work. Stay tuned for the results in Part II!