Published on Thursday September 11th, 2008
When I got excited about Knit Local, the recommendations for resources to check out came pouring in. One that grabbed me right away: www.oregonwool.com – a collective of Oregon fiber growers offering everything from wool and fleeces to breeding stock and handwoven rugs. I browsed the yarn listings and immediately clicked through when I spied the title, "Wensleydale and Longwool Yarns." I contacted Lois Olund of Blakesley Creek Farm to see if she could send me a shade card, and during an exchange of emails, Lois said she now had 100% Wensleydale in natural colors (which she's willing to dye) that aren't on her website. I slavered, and soon a promising plump envelope came through my mail slot. Inside was this:
(Look at that irresistible sheep face! I have the card on my desk where I can look at it all day long.) And this: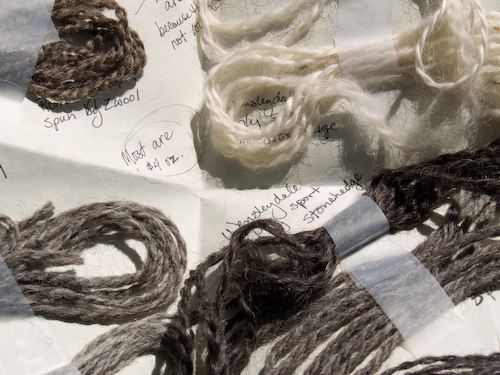 Lois sends her wool to several different mills for spinning; two in Michigan and one in Vermont. The 2-ply sportweights ("sportweight" appears to mean something different than I'm used to: heavier than DK rather than lighter) by Stonehedge Fiber Mill (second and third from top left) grabbed my attention first. They've opted for a loose, low-twist structure, so the long, shiny fibers of the Wensleydale wool are displayed at their softest and most glistening. The other Michigan company, Zeilinger Wool Co., has gone a very different route. Their yarns (at left and lower right – some are 100% Wensleydale, some are blends, and the brown at upper left is 100% Romney) are dense and heavily twisted. They're rougher and stiffer to the touch, but Lois says they'll bloom when washed. They're mostly bulkies and seem to beg for a thoroughgoing cabled project. The yarn peeking out in the extreme lower right is processed by Green Mountain Spinnery. The singles are more tightly twisted than Stonehedge's, but they aren't plied as tightly as Zeilinger's. These, too, look like they'd soften and bloom. Only one way to find out, right? I only have about a yard of each, but I'm going to try to knit up some mini-swatches. I'll show the results here in a couple of days!
I'm already thinking of that darkest Stonehedge Wensleydale as an Amanda cardigan from Lisa Lloyd's A Fine Fleece. What would you want to knit with wools like these?