Published on Tuesday January 4th, 2011
The holiday maelstrom swept us up and spat us out again two weeks later. Since I last wrote I've had food poisoning, a baby demanding bi-hourly night feeds for a week after the resulting drop in her milk supply, a cold, a leaky shower that may require retiling and new drywall, not to mention the usual commotion of parties and shopping and wrapping and eating… but also thirteen days of wonderful visits with family and the opportunity to squeeze my wee niece's marshmallow-injected thighs even if I couldn't snuggle her as I would have had I been healthy.
I finished the Tomten jacket for my nephew and gave it to him with Astrid Lindgren's The Tomten and The Tomten and the Fox. It is far too big and will probably fit him next winter and maybe even the winter after. My pictures of it suffer sadly from lack of time, daylight, and styling genius, but some sort of documentation was necessary to prove that I finished the thing at long last…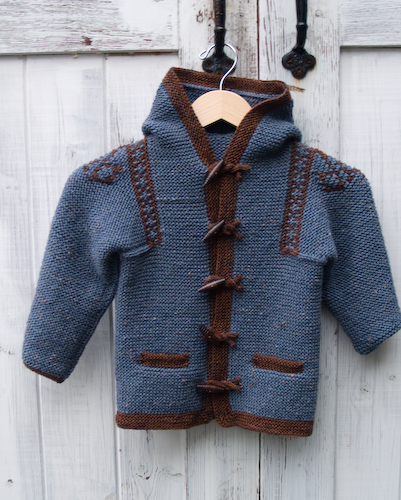 Like how I didn't even manage to get that sleeve unrolled all the way?
In my defense, it was coming on to rain pretty hard.
But I could have at least started with a smaller coat hanger.
The chief addition I made to Elizabeth Zimmermann's excellent pattern was jacquard colorwork at the shoulders after Franklin Habit. Garter stitch jacquard (and I'm using the term as Montse Stanley does to describe stranded color patterning) is not difficult to do; you can work any charted design you'd use for regular stranded colorwork, except that you have to work each row of the motif twice: right to left and then left to right, so that your design reads on the garter ridges. On the wrong side there's a pleasurable dance of the working and resting wools fore and aft to keep the strands on the inside of the sweater.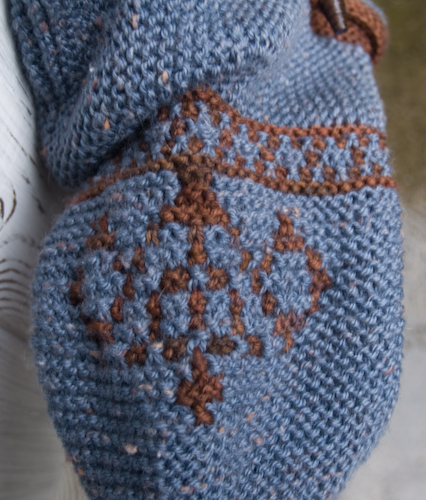 You do want to be careful about where you place this kind of patterning. I didn't anticipate how much the jacquard portions would spread vertically, and my first attempt at shoulder decoration created a major puffed sleeve I didn't think my nephew's Texan father would appreciate. I had to scale down the motif to end up with just a gentle epaulet shaping. In a future Tomten I think I'll try an even, 'round-the-hem motif and just a simple band at the shoulders, but the shaping I stumbled upon could actually be useful in an adult garment; EZ went to intricate lengths to incorporate it via short rows in Cully's Epaulet Jacket. (She added a nice natural bend to the elbows in that design, too — can't you just see a prettier, colorwork version of an elbow patch dressing up a tweedy jacket? It would be functional, too, as the jacquard stranding adds sturdiness…)
I also got a little fancy with the button loops. These are just short lengths of i-cord twizzled back on themselves and sewn down. They don't have the elegant economy of EZ's i-cord tabs or applied i-cord button loops, but I was splashing out.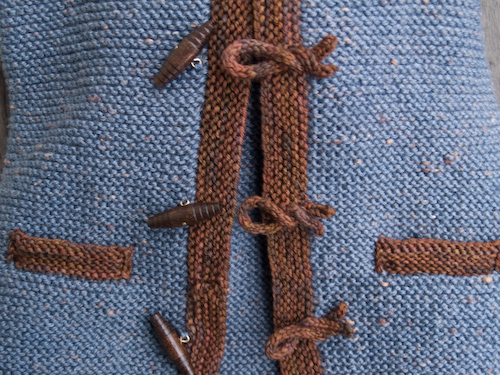 So! That's one longterm project put to bed for a cleaner slate in the new year. Now for that Helter Skelter argyle for my brother, and maybe even that wooly Manos blanket that's been cryogenically frozen in the bottom of the workbasket for about four years… but there are always so many new projects beckoning! My mother went to Ireland this past year and couldn't find an Aran sweater in natural brown. (The woman in the shop didn't even believe her that sheep came in brown.) Obviously someone needs to do something about that, and a certain seminal text on Aran knitting happens to be back in print now… Na Craga's been on my list of dream knits for years…
I'll leave you with an appealing nephew anecdote. Background: Riley's daycare provider was concerned that he'd feel left out because his mother requested that he drink water in his sippy cup all day rather than juice, which is what the other kids get. My sensible sister-in-law just pointed out that she could call the contents of his sippy cup "juice" and he'd be none the wiser — the little man isn't yet two years old. So we got to the Oregon coast just after Christmas and Riley trotted over the dunes and caught sight of the pounding waves. He flung his arms wide and exclaimed, "JUICE!"
Happy 2011, everyone. I'm not making it an official resolution like Don't Eat Vegetarian Food in Decidedly Non-Vegetarian Restaurants, but I'll try to be in touch here more often.