Published on Wednesday November 9th, 2011
I've been waiting for the perfect setting and conditions (a non-work day during which there is no rain for a nice window between mealtimes so Ada's clothes and hair won't be covered in food, but not so far from a mealtime that she is hungry or tired, and shortly after a wash day so she won't be wearing the haphazardly clashing dregs of her wardrobe) to photograph Minni, because it's just about the cutest thing I've knit. Needless to say, between illnesses, November gloom, and the whims of She Who Toddles, those perfect conditions haven't presented themselves. We made do.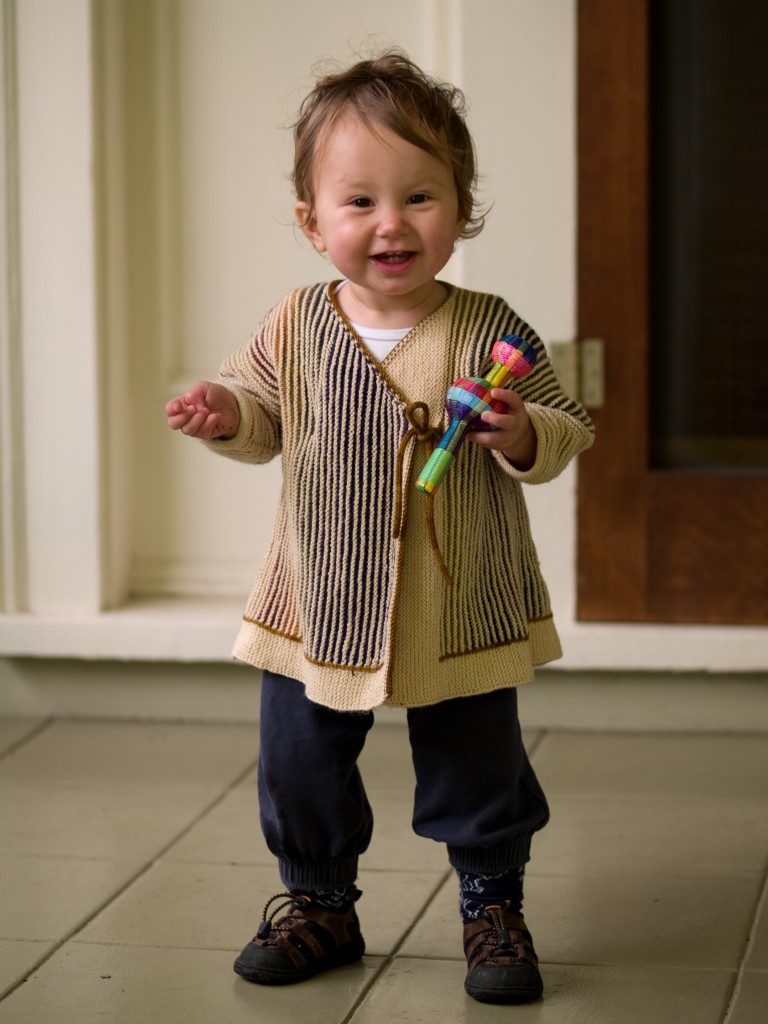 Looking back at my notes, I see that I cast on for this jacket a scant twelve days before Ada was born. I did most of the knitting in the early months of her life, and if you've experienced the early months of someone else's life first hand and full time, you'll know that means I made a lot of mistakes. I can see some of them right on the front. This isn't a simple pattern, despite being entirely garter or stockinet stitch, and it isn't constructed like any sweater you've ever made. The instructions run to ten pages, and you'd better be willing to try your hand at short rows and provisional cast-ons and small needles if you want to attempt it. But if you're a patient, thinking knitter, it's rewarding. I mean, the cuteness!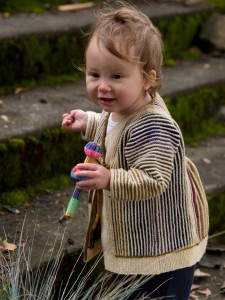 It's got clever shaping, too… look how the back of the coat is extra roomy to swing freely over that big cloth-diapered bum.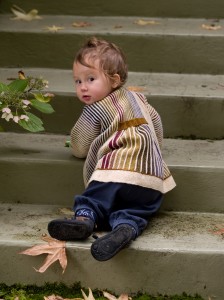 The back details alone were enough to suck me in. I love the way the design shows off yarns with long color changes (I chose Noro Kureyon Sock for Minni I and have already started Minni II with Crystal Palace's Mini Mochi), although there are some darling solid versions out there, too. A word on the sizing: Ada is fifteen months old and is a medium-size baby — currently right at the 50th percentile for height. She's wearing the 6-9-month size jacket, and as you can see she's got plenty of room to grow into it some more. The designer, Lene Alve, does live in the Arctic Circle, and I suppose by the time I got a six-month-old into enough layers to stay cozy in that climate, she might just about fill up this jacket! But for the rest of us, I'd say multiply the suggested ages in the pattern by 2. It's a good thing this jacket runs so large, though, even if you wind up having to tuck it away for a year. A pre-mobile baby couldn't really do it justice, and a crawler would always be running aground on the fronts. (Ada still catches the fronts with her knees sometimes when she's going up stairs.) You need a toddler to set that sweet hemline swaying, trust me.