Published on Friday October 21st, 2005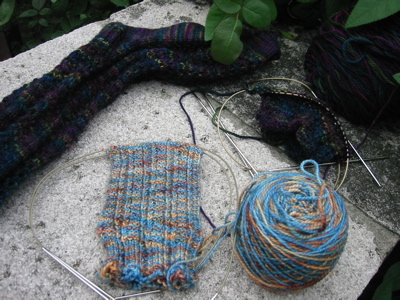 Feather-and-fan socks in Mountain Colors Bearfoot for me mum's Christmas present: one complete; one tenth of second done been knat.
Retro rib socks in Claudia Handpainted: four inches and counting.
It took me a while to find a good pattern for the Claudia sock yarn. As you can see on Lisa's page, the browns and blues want to spiral around each other like a barber pole. I had intended to make Ann Budd's Diagonal Rib socks from Interweave, but the right-slanting diagonal rib combined with the left-spiraling stripes was pretty awful. I tried a few basic rib patterns, but I really wasn't digging the spiral that much at all. Finally, I tried Retro Rib, thinking the many purl stitches might help break up the striping. Viola! A nearly perfect blend of blue and brown. Huzzah!