Published on Thursday October 5th, 2006
I finally bound off this:

Behold, a knitted amoeba. But bless me, it really does turn into a sweater!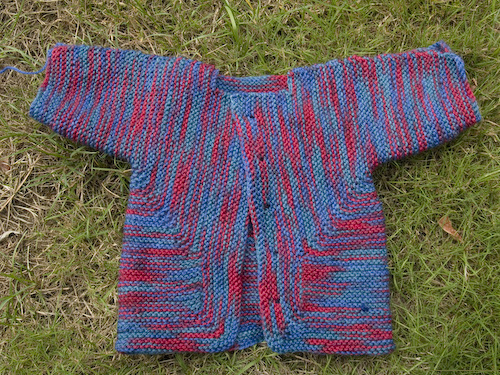 Now to dash off a couple of insignificant seams (along the sleeve tops only – brilliant!) and sew on five cute buttons, purchased Tuesday at Josephine's Dry Goods. I may crochet a single chain along the border just to polish it up a bit, and then it's off to the recipient, possibly even before he arrives in the big bright world. (He's due on the 11th. If there's any truth to Stephanie's theory that babies show up as soon as you're done knitting for them, his mother will be ecstatic that I worked fast. I promise not to dawdle with those buttons, Misa.)
And, because I am a bad blogger, I've been withholding pictures of my Socktoberfest project. I give you the Drunken Bear Stocking:
I've long meant to work up a pair of socks based on the Bear Track pattern in the second Barbara Walker treasury. I thought I'd go ahead and work in some new skills, too: Toe up, baby! Via Turkish cast on! With afterthought heel! The Turkish cast on turns out to be a breeze, exotic as it might sound, and I can see many splendid applications for it — glove fingers, top-down hats, booties, all kinds of things. I haven't actually knit the afterthought heel yet, so we'll have to reserve judgment on that. But let me speak to you of the Bear Track pattern. First I had to adapt it for working in the round. Easy as winking on the foot, where there's only one pattern repetition. But when I got to the ankle and wished to replicate the pattern all the way around the leg, a pint of Laurelwood Sticke Altbier helped me discover the following: if you complete the last round as I'd written, the bear tracks begin to stagger. At first I thought I'd correct my instructions, but then the idea of a drunken bear track sock delighted me. (Total coincidence: Google "drunk bear video" if you haven't already seen it.) I thought I'd work a few repetitions and see how it went. The color isn't behaving with such fawning obedience as it did on the foot, but I think I like it all the same. Maybe when I do Sock #2 I'll make a designated driver bear with straight tracks, as originally intended. The yarn is, of course, Socks That Rock, colorway Red Rock Canyon. These are intended to be knee highs, and I intend to wear them while riding my bicycle. Thus I will fulfill two proud traditions at once: that of outrageously colorful long knitted cycling socks, de rigeur in the '20s when cycling became popular, and that of Keeping Portland Weird. (Seriously. We have bumper stickers.)
Next time: a project I've been knitting in secret the last few days. Can you guess what it might be?