Published on Friday August 31st, 2012
See? I sewed: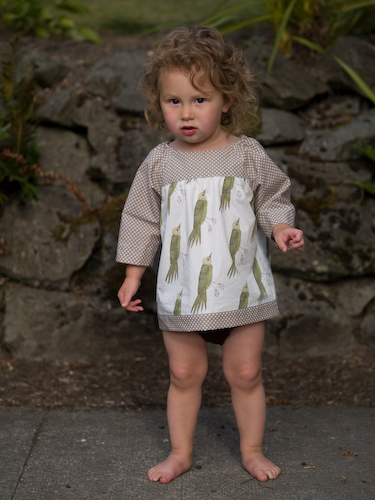 As dubious as my little model looks here, this thing came out pretty well. Her actual reaction to the shirt was totally positive; it was just the first time I've tried to explain to her how this whole bit with the camera is supposed to work:Â you stand over there, Mama's going to back up into these bushes to get far enough away to fit all of you in the picture…. Okay, no wonder she looks like she thinks I'm nuts. "Birds on it! Birds on it, Mama?" she chirped when I showed her what I'd finished sewing.
This, my friends, is the Oliver + S Class Picnic Blouse, and I am making more of them. It was easy to sew but taught me nifty tricks like understitching and stopping the seam finishing a few inches from the cuffs and hem to reduce bulk, thus making me feel I'd gained in competence and might be able to apply what I'd learned in a novel situation. Turns out I love that feeling in sewing just as much as I do in knitting.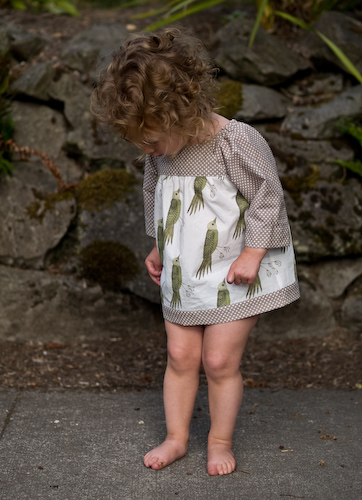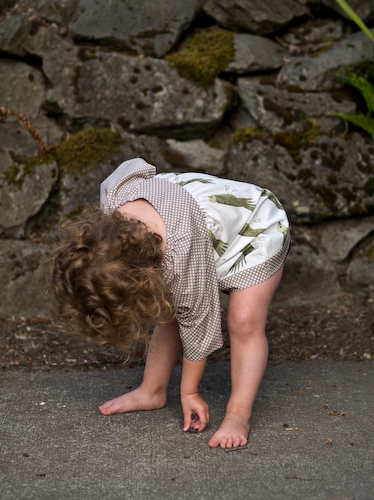 This blouse falls right in the sweet spot for kiddo clothing, as far as I'm concerned: easy enough to make that you could whip up another in the next size in just a couple of evenings and wouldn't cry if anybody drooled cherry juice down the front; cute but not precious; and most importantly, so comfortable your child can forget she's wearing it and focus on the business of examining very small rocks.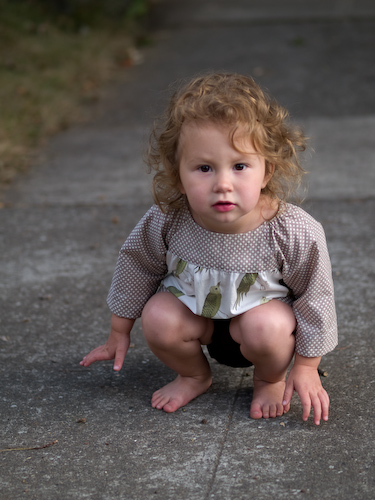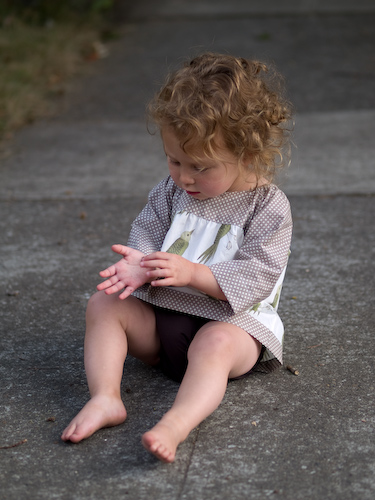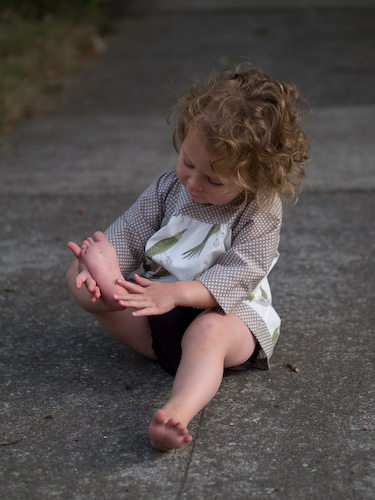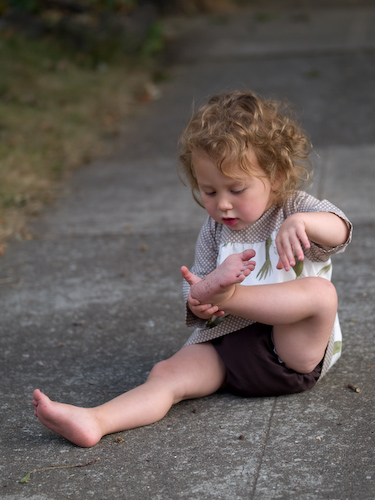 It's not for Ada, though. It's a birthday present for her cousin Lucy. (I made sure to mention this right away so I wouldn't have to wrestle it back from a crying possessive toddler.) The bird fabric is, of course, left over from the quilt I made for my neighbor in May. My remnant was too narrow to make the whole front and back of the blouse in the 3T size (I believe I shall always make children's clothes a size larger than necessary from now on), hence the contrasting hem. I stitched the two fabrics together before tracing and cutting the pattern pieces; as it happened, the seam was perfectly concealed in the hem finishing. I've already cut out pieces from some of the other quilt scraps to make my girl one of her own.
In unrelated news, Jolyon uttered his first giggle on his seventieth day in the world. My friend Mary takes the honors for provoking it. And tonight my children laughed at each other for the first time. There are moments of dizzying magic.