Thanksgiving is a big deal with Mr. G's family. This is not only because his mother loves to gather in the family and feed them within an inch of their lives, but also because it's always near the day that brought us Mr. G and his twin sister. This year, eighteen guests demolished a monster feast of turkey and all its traditional American accessories. Rather, seventeen of them did; the token vegetarian cooked her own entrée and was delighted when there were leftovers.
It's always a challenge producing a satisfying vegetarian main dish for these big meat-and-potatoes holiday meals. Do you go with the fake meat? (I tried Tofurkey once; it was disappointingly dry and rather more processed than I like.) Do you go all devilmaycare and deviate from the traditional foods entirely? (We made an Indian feast one Christmas, with two families cooking for two days beforehand. It was delicious, but it definitely works best if you teleport the entire menu rather than just the vegetarian food.) Or do you try to blend in with a riff on the traditional by substituting veggie ingredients? (I had good success a couple of Christmasses ago, inventing a portobello mushroom version of Yorkshire pudding. Marika helped me pull it off.)
This year, the answer dropped into my lap. A friend and colleague told me she'd spotted a savory bread pudding recipe in a new issue of Bon Appétit that sounded incredible. She brought me the recipe — Butternut Squash and Cheddar Bread Pudding — and I quickly saw it was from Molly Wizenberg, the blogger behind Orangette, which you should really read if you like food. Get this: day-old crusty bread torn into bite-size pieces and drenched in an egg custard with cream, white wine and mustard, then layered with sautéed kale, cubes of roasted butternut squash, and sharp cheddar.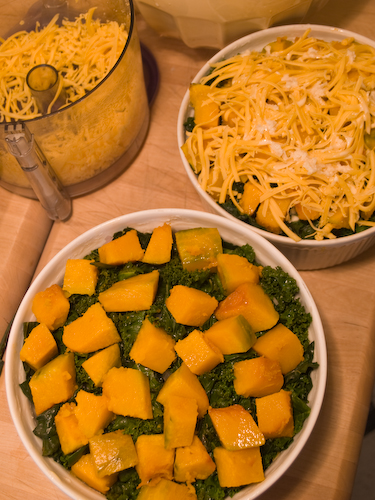 (You can't see the bread layers in this photo, but they're under there. I didn't think to get out the camera until I was almost finished with the assembly. The squash is a mixture of butternut and buttercup, both grown by my friend Betsy at our school.)
It was amazing. Cousin Sarah's meat-eating husband said it was his favorite dish. This Sarah and her parents and husband had it reheated for birthday dinner the next day. (I know it seems criminal to feed your man leftovers on his birthday, but they were really GOOD leftovers.) There's more in the freezer, oh joy. And lucky all of us, Molly's article and the recipe are online here.
What makes this dish, for me, is the kale, which doesn't get a mention in the title. Mr. G sautéed it just right (I love the merry crackling it sets off in the pan) — tender but not limp — and the top layer got crispy and flavorful in the oven without charring or turning bitter at all. I can't get enough of kale these days. We substituted it for lettuce in burritos on Saturday, sautéed it with garlic and lemon juice on linguine Monday night, and I was thrilled to see more of it in our farm share this week. Our neighbors planted beautiful lacinato kale (that's the one with the dark, tongue-shaped leaf, not curly except at the very edges), but rogue caterpillars chomped most of it. Their purple kale is surviving better. I'm advocating for even more of it next year.
Next up: New gloves for Mr. G!