Published on Sunday September 12th, 2010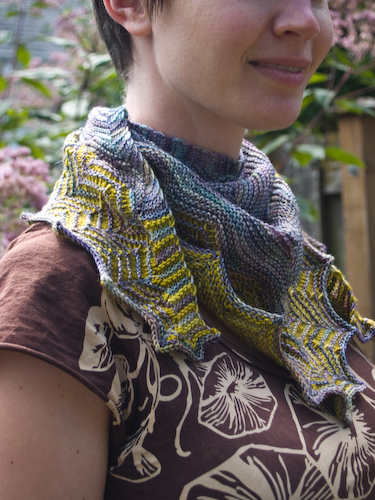 Do you suffer from that pathological crafter's condition where you realize you haven't organized a present for someone whose birthday is in three days and you figure you'll just make something from scratch? I do. This wouldn't be a big problem if my craft were baking or cartoons, but knitting is time consuming. Unfortunately, common sense and practical experience of the space-time continuum as we know it are no remedy for this condition. And that's how I found myself turning to Stephen West (how long could a jaunty neckerchief take, really?), rummaging in the stash for a skein of Malabrigo Sock and some Socks That Rock leftovers and casting on for Akimbo on August 24th.
No, I didn't finish in time, especially given the need for blocking and shipping to New York. But Fortune handed me a cookie. Essentially the same hour I cast on this quick something for my brother, his wife went into labor. This meant that he would not exactly be watching the mail slot for his birthday present. And all that garter stitch was ideal — I needed something meditative to focus my nervous energy while I was waiting for news. Alas for my sweet sister-in-law, I was nearly done with the neckerchief by the time my wee niece made her appearance, and I am not holding any records for knitting speed.
I did try to get Akimbo out the door as fast as possible, though, and that's my excuse for not having staged better pictures. I "borrowed" this little scarf for a cool morning's walk to the coffee shop and liked it so well I'm going to have to knit another for myself. I'd basically like to have the entire Stephen West design collection in my closet for fall…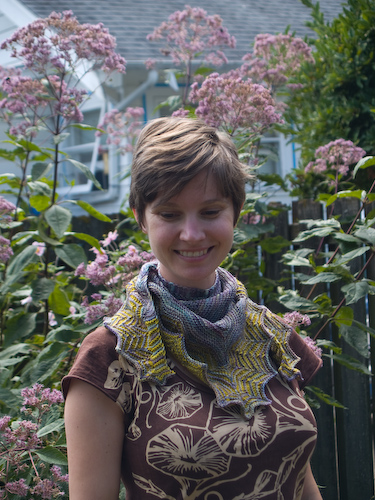 Akimbo, by Stephen West
Malabrigo Sock in I'm not sure what color… maybe Indiecita?
Blue Moon Fiber Arts Socks That Rock Lightweight in Pond Scum
NB: STR Lightweight is significantly heavier than Malabrigo Sock. I'll be wary of combining these yarns in the future.