Published on Monday December 22nd, 2008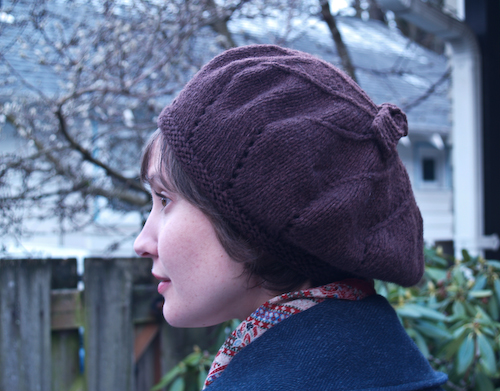 New version of the pattern added 19 February 2010.
By popular request (and my own long-delayed intention), the Columbia pattern has been modified to include a medium size that will fit smaller heads or those who like a real beret rather than a beret/snood. I've also corrected the instructions for setting up the stitches to knit the ties on top. Get the new version here:
The wool I used is a soft 2-ply Columbia wool from Oregon's Imperial Stock Ranch; you could substitute any worsted weight wool, but a fuzzy woolen-spun will give you a cohesive, warm fabric. The slouchy beret is worked on needles slightly smaller than recommended for extra structure and a felt-like hand. Lines of yarnover eyelets swirl decoratively up to a knit-on garter-stitch topper. The Columbia wool will full quite readily if you wish to tailor the fit after knitting.