Published on Friday December 7th, 2012
Surplice (not Surplus) Baby Jacket!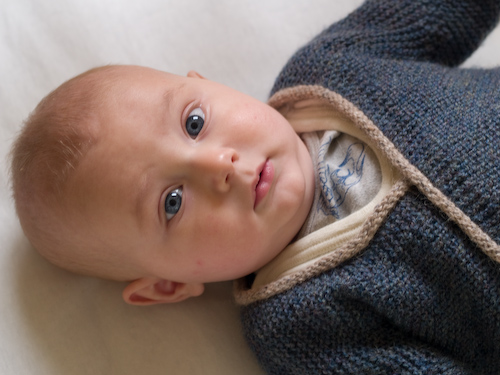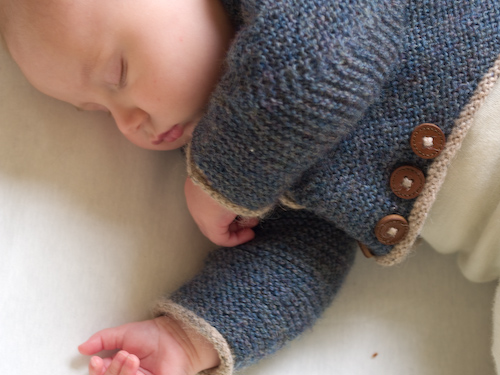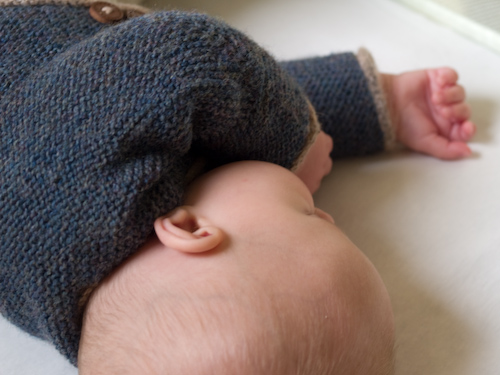 I cast on this little cache-coeur for Jolyon last summer during the Olympics, without bothering to swatch or guess how large it would be, and it's a perfect fit now. I set aside the Vogue Knitting from Spring/Summer 2007… well, back in 2007, knowing that I could leave no Elizabeth Zimmermann baby sweater unknit—put it right on the shelf amongst the sock yarn where it wouldn't get lost in a box. And then at the first Sock Summit in 2009 I picked up this skein of what's since become mystery wool, having lost its extraordinarily unassuming label—it was no larger than a tea bag's label and printed on much less sturdy stuff. It was an American yarn maker… name started with a D, I think… an upper midwest or eastern mill… they had a very modest display of nice heathered wool in quiet colors. (If you bought some and kept better track, let me know!) It has a bit of crunch to it, but is soft enough (in my opinion and, I'm sure, in EZ's) for a baby. I tucked it alongside the magazine, and the yarn and the pattern waited patiently together for the next three years. Turns out they were waiting for this baby, this big blue-eyed boy, whom they suit exactly.
There's a lot of leeway in the pattern (which is also in Knit One Knit All and available separately from Schoolhouse Press), as in so many of Elizabeth's designs; I followed the Vogue directions pretty closely, if I remember correctly, but lengthened the sleeves. I chose not to fuss with stripes and just let the pleasant heathered wool do its stuff—this blue is blended with both red and yellow and is hard to pair with other colors anyway. I used some Rowan Felted Tweed remnants for the edging to give it a bit of dash, and although it might look like i-cord at first glance, it isn't. I just picked up stitches all around, knit a handful of rows of stockinet, and let it curl up. I wanted something more elastic than i-cord so the garter stitch could be allowed to grow with the baby for a while, as it so obligingly tends to.
The shaping may not be what you're used to in garments for little boys… it's quite cropped on an infant the size of my strapping five-and-a-half-month-old. But we're finding it very useful as an outer layer, especially over his woolen footed overalls. The wide neckline is practical on a baby of slobbering age—so often I'm picking little soggy bits of wool lint from between his chins, but that's not a problem with this sweater. And he's finding those leather buttons irresistible for teething. (I sewed them on well, Infant Care Police!)
If you're just here for the baby footage, these were all taken on his five-month birthday. It still surprises me that we haven't had him for much longer. This boy. This bright and beautiful boy. At the end of the longest, most trying day (and we've had a few of them lately), he can give me a grin and a chortle as I bundle him into his pajamas and all's right with the world.