Published on Wednesday April 10th, 2013
And sadly, I really mean "on camera phone." The logistics of a proper shoot for a deserving handknit aren't really that staggering, but the alignment of husband-photographer + decent weather + compliant wee kiddos hasn't really presented itself. And since I'd like to prove that I finished something for myself to wear before next autumn, out came the phone.
This is Kate Davies's Deco, and I mostly love it. Neither of these photos reveals its chief flaw, which is that my hips are either not where I think they are or they aren't shaped the way I imagine or both. And as a result I've got a hip-shaped pooch of fabric several inches above my actual hips. This is despite having lengthened the body of the cardigan by a couple of inches, anticipating that I have a long torso and wanting coverage to the tops of the jeans I usually wear. And it's happened to me before… my much-loved-anyway Amanda cardigan has the same problem. What I should be doing for a cardigan this length, apparently, is either to cast on fewer stitches so I don't have to decrease more than a couple of times to reach the narrowest circumference or to begin the decreases immediately and just space them farther apart. Lesson learned. (Maybe.) I could also use a couple of hook-and-eyes at the bust, but I'm waiting until my post-nursing days to see if that's still necessary.
But I am in mad hot love with the design, this color, and the yarn itself, which I snatched up at the Madrona Retreat in 2012. It's from a little shop in Port Gamble, Washington called The Artful Ewe. Heidi Dascher owns the shop and dyes on a number of lovely and unusual bases. Her batches are small… I think I bought all there was of this color, and as you can see by the shortened sleeves, I could have done with a sixth skein. Artful Ewe doesn't have a web presence for sales, so you pretty much need to visit in person or find them at a show, but this is a base yarn called Argentina, a blend of Polwarth wool and silk. I could knit it every day for the rest of my life. And worked at the tight gauge Davies calls for in this pattern, it should wear very well.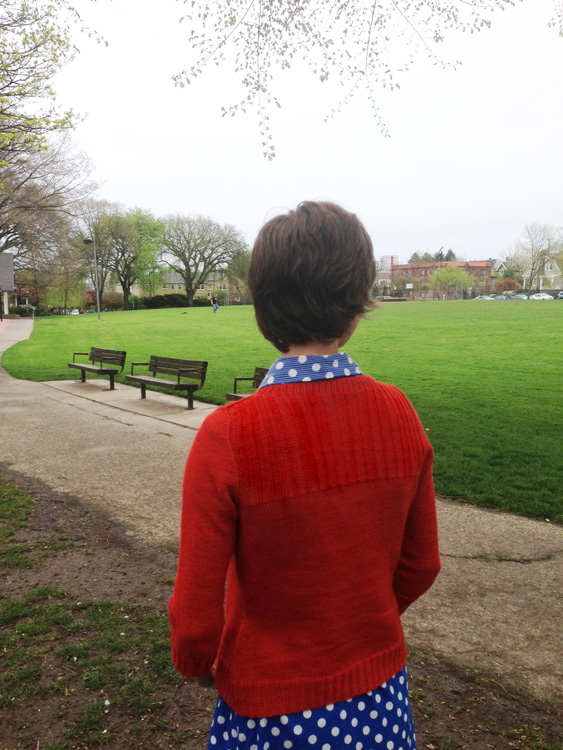 Deco was done in time to wear to Madrona this year—I sewed the vintage glass buttons (from the awesome selection at Happy Knits) on the train to Tacoma—and has been in steady wardrobe rotation. (It's surprising how many colors hot coral red goes with.) If I knit it again, I think I'll do a standard button band with button holes. I won't deny the flash of bright ribbon facing is fun, but sewing that sucker so that both sides came out even was a bear. I did one side three times to get the rib to match reasonably well without bunching in places, no matter how well I thought I'd pinned it. Elizabeth Zimmermann was opposed to ribbon facings on the grounds that they won't stretch with the knit fabric, and although I can see a way to use this to one's advantage—to stabilize the back of the neck and shoulders, for instance…my Blue Thistle could use a dose of this treatment—I think I stand with her (as on so many other points). And stitching on all those snaps as well as the buttons…it's a good thing I had a hard deadline and a lot of motivation to finish for Madrona, or Deco might languish yet in the work basket, all but done.
For the hard-core knitter looking for details on the experience of working from this pattern, I'll refer you to my Ravelry notes. I'm really happy with my defeat of the slipped-stitch rib's tendency to row out, and I did encounter an oddity in the sleeve-cap shaping, both of which I discussed in my notes.