Published on Sunday May 20th, 2012
Smoke is just about rising from Signy, my trusty little Husqvarna. I finally bought a new packet of needles for her this afternoon; the one I've been using since we rekindled our relationship this spring is as dull as an old dog's tooth. And she's started to sound a tiny bit clattery. I hope a fresh, sharp needle will help, but I suspect I've finally run her over enough yards of fabric that she's due for a tune-up. Hang in there, girl, because we still have a big push to bind a couple of quilts and finish a baby jacket before Little Dipper turns up. I made friends with her walking foot and successfully stitched a quatrefoil pattern all over the baby quilt. Then I got a bee in my bonnet about making a quilt as a birthday present for a dear friend. I pieced the whole top in one furious go this afternoon. But before either of those projects, Signy and I pulled together a little gift for dear Denise's beautiful Kira, who has somehow turned three already: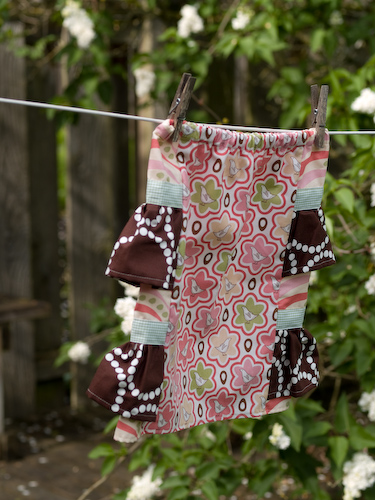 Three-year-olds are still foreign territory for me, so I guessed about the size based on the Craft Council standard measurements. Also, this pattern is a little ticklish in its wording. It's the Little Bo Peep skirt by Anna Maria Horner; the directions require that you customize the size according to the circumference of the child's waist (sounds good, right?) but then begins rather airily to refer to the "width" of the skirt when you cut the front and back panels. One possible interpretation is that "width" = the circumference measurement you've just written down. But this would result in the skirt hem being roughly three times the child's waist measurement, and that sounded awfully floofy and didn't seem to match the illustrations. Searching the internet to see what others had done was inconclusive. So I went with the theory that "width" = half the circumference. But I fear this skirt isn't quite ample enough for a three-year-old to really run and play in. If I make another, I'm going to cut front and back panels three-quarters the waist circumference.
But once you're past that hurdle, there are some nifty skills a person can learn in making this skirt, I'll tell you. Oh, la la, French seams! Ruffles!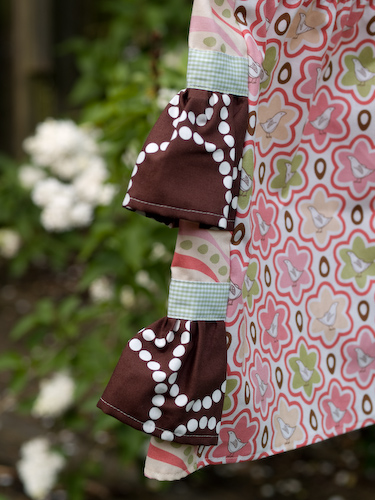 These weren't my first ruffles, but I couldn't have picked a French seam out of a line-up until now. I followed Anna Maria's instructions with no idea what I was actually doing… hey! Lookee, Ma! The edges are tucked away forever in a neat little casing! I love a chance to conceal a raw edge, although the result (at least as executed in quilting cotton) is a bit bulkier than seems ideal in a garment this size.
All in all, a good learning project, and a quick handmade something for a special girl. Next up, Signy gets a well-earned rest while I hand-tie a quilt for the first time (It looks pretty easy. Famous last words, right?) and sew snaps on a very wee baby cardigan. I think this may be how I nest. Violent cleaning of the house would probably be more virtuous than tearing around in a whirlwind of needles and wool and poplin. But not nearly as much fun.