Published on Monday March 5th, 2012
Bronchitis. Sinusitis. Busted ribs from so much coughing. Stomach virus. That's been our existence since January. This morning Mr. G fell down the stairs and simultaneously bumped his head on the door frame, which pretty much sums it all up. I have a new sweater and a new hat to show you, but putting my face within reach of a camera has seemed like a laughably poor idea. I think we are all finally on the mend, but outside there's steady rain, and the photographer is still in bed with his cough and sore muscles anyway. So today you get Ada in her comical (but very effective) rain suit.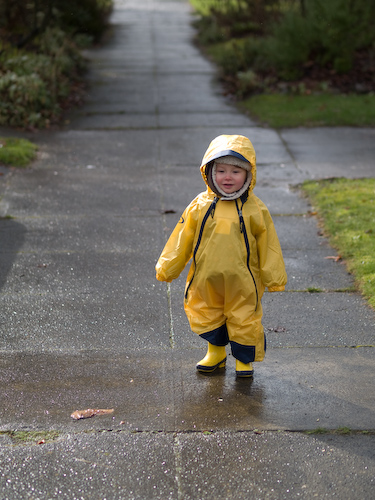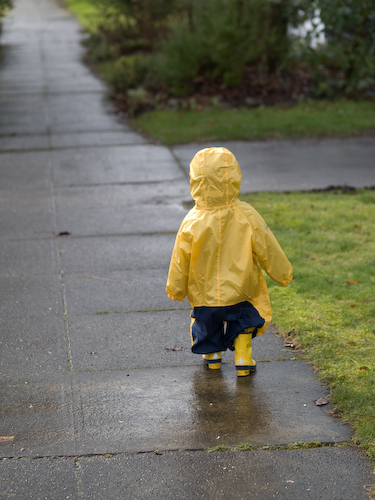 Apparently we're not quite a size 2T yet. But getting another year's wear out of this will be no bad thing. It's the perfect protection for those times when you need to plop down on the wet sidewalk and exclaim over a "wom" braving the trek across to the dirt on the other side. (Then Mama picks it up and we admire its pinky-brown squiggliness before Ada directs its careful placement in the "gwass," safe from wheels and boots.) The rain suit is made by a company called Tuffo, if you're interested.
Speaking of boots, my girl is thrilled to have a pair she can put on by herself. She clomps around the house in them just because she can. I'm delighted her feet finally grew big enough to fit the smallest size. It took her a little while to get accustomed to the little heel on these; she looked just like John Wayne climbing off his horse and swaggering into a saloon the first few times she tried to walk in them.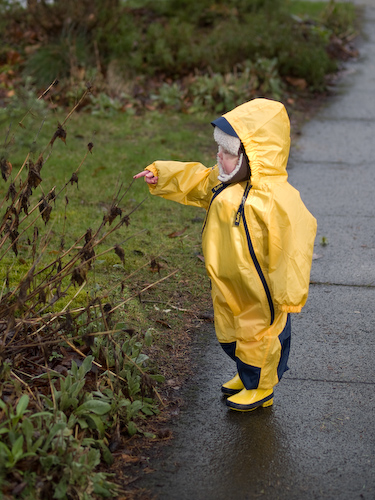 The long soak of the Northwest winter isn't over yet, but there are daffodils starting and fat buds burgeoning on the magnolias. The hellebores are at their plum-and-ivory best. The red currant is unfurling its new leaves and fountaining pink blossoms at once. Spring is so close we can smell it.
It's hard to believe that this new season will be capped with the arrival of another child in our family. Pregnancy is a wondrous time (and I'm fortunate that it's pleasurable for me, health wise), but it's very different when there's a first baby already absorbing all the focus and energy you can give. Carrying Ada, I could turn inward and revel in every fluttering movement, submerge in my imaginings of who she'd be and who we'd become as a family of three. The new baby seems to sense already that there's competition for Mama's attention. This child knows kung fu. Ada kept her head down and pranced back and forth across my abdomen; this baby rolls and flips and unleashes breathtaking flurries of sharp blows. The common response when I tell people this is, "Oh, it must be a boy!" I have to raise my eyebrows at that. If there were any scientific evidence that boys are more active in the womb, wouldn't we all have read about it? And whence this notion that boys are more active at all? I work at an elementary school. I watch the children at recess. Yes, boys are generally the ones playing football and soccer. But the girls are fearless and nimble as monkeys leaping across the bars or practicing flips and cartwheels, and I see both sexes racing across the grounds in games of Tag or goodness knows what imaginative play. I ran as swiftly and climbed as high and played as hard as anyone when I was a child. Three more months will tell who this baby is; I'm not making any judgments in advance. But I'm trying to steal moments to soak in his or her lively presence.