Published on Wednesday July 27th, 2011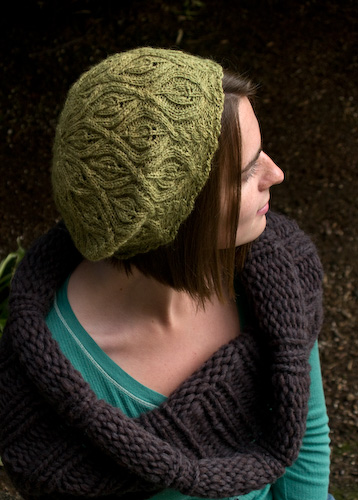 I knit this beret back in April. April is a pretty sensible month to wear some kind of hat in Oregon, because it can still be pretty wet and cool. (Actually, it turns out July can also be wet and cool, at least this year.) The yarn was a perfect spring green, and the design (Autumn Vines) of leaves and twisting vines was so evocative of new growth. But it turns out I need to wait until we're really back in the depths of midwinter gloom to wear this hat. The yarn is colored with natural dyestuffs — plant matter — and it is even less lightfast than I would have suspected. I blocked the hat over a plate, and I thought I'd set that plate outside on the laundry rack for the afternoon so it would dry more quickly. I always avoid laying any of the woolens out in bright sunshine, especially if I think their colors might be vulnerable to fading, but this was an overcast day.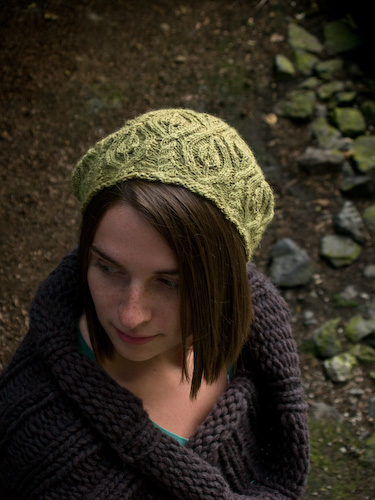 Not overcast enough, though. After just a few hours, the top of the hat was distinctly yellowed, while the brim that was turned beneath the plate retained the original green. It's even more noticeable in person than in these photos, and not exactly a look I was after! With wear, the whole hat should "weather" to yellow, and I'll admit I'm curious to see what its final shade will be. Yellow is not really a great color for me, unfortunately. I can always overdye it, so I'm not counting this a failure — it's still a nice little hat, and the yarn (a 65% wool/35% silk 2-ply from Rainshadow Yarns in Kingston, WA) was a pleasure to work with. It has a faintly crunchy woolen-spun hand with a bit of luster from the silk and the longwool fibers. And I don't mean to criticize dyer Marcia Adams; plant-dyed fibers are processed close to the earth and it's only natural that they should be less resistant to sunlight or hot water than fibers treated with stronger synthetic chemicals. I do mean to caution knitters to treat these special yarns with extra tenderness and to accept that change and weathering are to be expected. That's nature's way.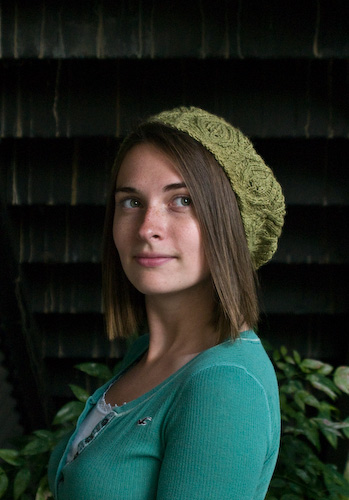 Thanks to Lorelei for being a patient and photogenic model!
These pictures are from a little workshop I took with my friend Vivian to start making better use of my DSLR, an Olympus E-500. It's amazing how a few simple pointers from a pro can make a difference. Begone, busy backgrounds that distract from the simple story of the portrait! I shall place my subjects farther from textured walls. I shall boost my ISO in low light. I shall think in terms of the triangle created by the photographer, the subject, and the light source. I think I shall even start saving for a 50-mm lens.
(Vivian did not, alas, impart any nifty tricks for those times when you wish to photograph small, fast-moving subjects who want only to climb the photographer and get their sticky little paws all over the camera. Plays hell with the aforementioned triangulation and depth of field, not to mention the focus. But this, of course, is also nature's way.)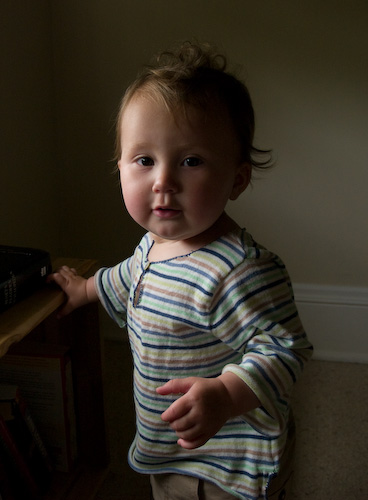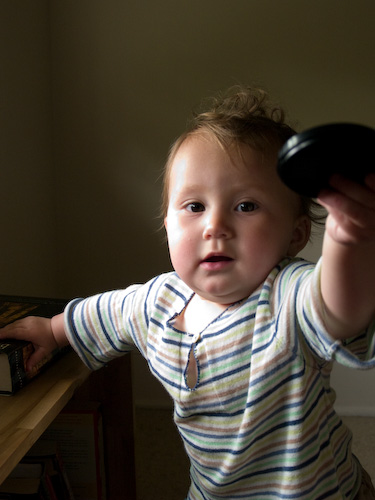 I have yet another photography class planned for Sock Summit, this time with Franklin Habit. Because it's tough to take interesting and effective pictures of socks, and I do have a new one I'm hoping to share with you soon! By next week, I may even have two: I'm spending Friday with Cat Bordhi (whom I have never met, despite hailing from the same small town) in "Personal Footprints for Really Rebellious Sock Knitters." I don't know that I qualify as a really rebellious sock knitter. The word rebel comes to us from Latin rebellis and originally connoted a fresh declaration of war by the defeated party. In truth, I'm happy to knit socks in the traditional top-down ways, with their multitude of heels and toes developed in different cultures and time periods, each handsome and useful in one situation or another. But I heartily admire Cat's toe-up architectures and have found them both beautiful and comfortable as well as mind expanding. In short, the more possibilities, the better. I go to embrace rather than to make war. And I go in happy anticipation of rubbing elbows with sock-loving fools from around the world: welcome to Portland, my people! (And how did I miss our mayor's proclamation that this week shall be Sock Knitting Week? I am always going to wish I could step out my back door and be in the woods and fields, but I love my adopted city.)