Published on Sunday July 3rd, 2011
If you've read this blog for any length of time, you know what July means: the Tour de France and its celebratory knit-along! I already know I'm going to fail at completing this year's epic project (on which more later), so I thought I'd at least kick things off with a little bonbon… after all, it's been a while since there was a new free pattern up here, ne c'est pas?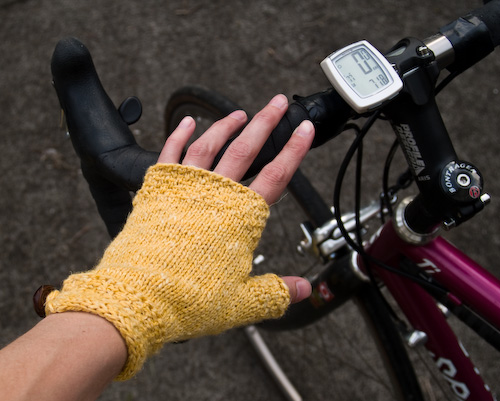 How about a simple pair of fingerless gloves inspired by cycling wear, with just a few classy details? I'm calling these the Vilaine Gloves in honor of the river the peloton will cross on their way into the finish town of Redon tomorrow. I knit them using far less than one skein of The Fibre Company's Savannah DK, a summery blend of wool, cotton, linen and soy, but the pattern is written with length and percentage measurements so that you can use a yarn of any weight from your stash.
If you'd like to have at it, the pattern is here:Â VilaineGloves
More pictures? Glad to oblige.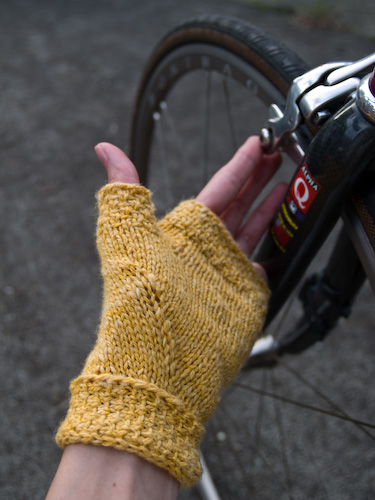 I used one of my favorite thumb gussets, placing the increases only on the palm side. This treatment is most useful if there's patterning on the back of the hand you don't want to disturb, but I like the way it looks in general.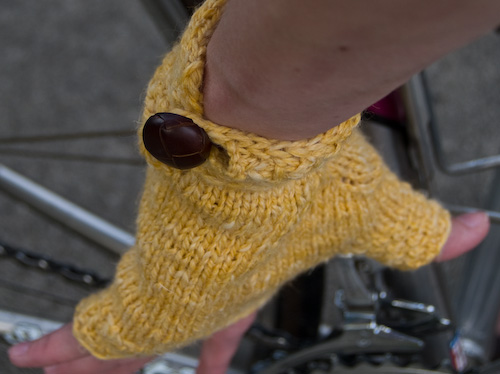 Final point of polish: a professorial leather button to close the wrist band. One needn't, of course, wear these gloves for actual cycling, so you can choose as dressy a button as you wish.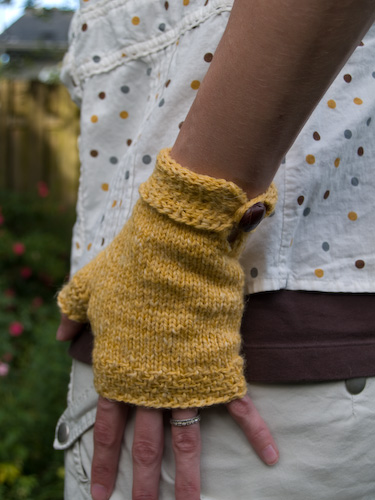 As always, please contact me right away if you find errors or tricky bits in this pattern. Full disclosure: I knit and wrote this sucker in the space of two days. During the first, the yahoos up the hill who can't wait until 4 July to light their illegal fireworks panicked my poor dog, who jumped or squeezed under the fence and went on the lam for a night and a day, causing anxiety and heartbreak in all quarters. (Thanks to all that is good in the universe, she was not run over on Sandy Boulevard and kind souls Jean and Tim coaxed her into their home and reported her so I could retrieve her the next afternoon. She is terribly footsore but safely home.) Then last night the baby decided to conduct a one-girl circus in our bed for several hours. All this is by way of saying there are probably errors, so knit with sense and trust your judgment, mes amis.