Published on Thursday June 2nd, 2011
Just before Ada was born — and only just: checking my notes, I see that our labor began four days later — I finished what I think is going to be the signature piece in her wardrobe for the next two seasons. My friend Jen had dreamed up an adorable new baby sweater (she knit a lovely lavender-and-yellow sample that Ada has been wearing all winter) called Baby Brioche; in a fit of third-trimester ambition, fired up by the brioche possibilities explored by Nancy Marchant, I adapted the pattern to use two colors. This month, it fits my girl.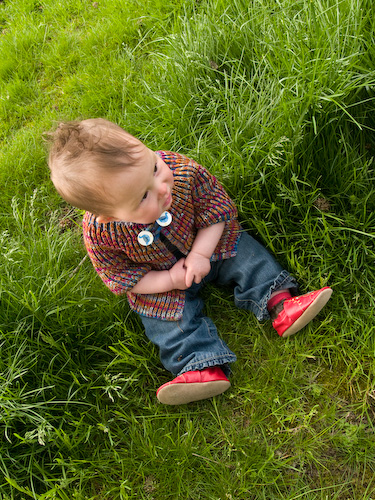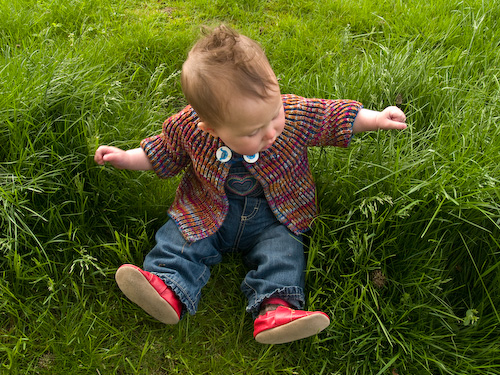 (Mr. G saw this photo and said, "Is that our lawn?" He mowed it promptly thereafter. Thanks, love!)
10 months old and still no teeth!
A word about the hair before we get back to the cardigan: yes, it actually grows that way. But I like to tell people we get up at 5:30 in order to spend an hour fixing it just so with the curlers and blow dryer. I suspect we'll be making appeals to all our curly friends for hair management advice, because Mama sure hasn't had to deal with anything like this on her own head! I mean, do you even try to brush it? My friend Maria recommends a spray bottle of diluted leave-in conditioner, which sounds pretty reasonable for a squiggly toddler… But for now, back to the sweater.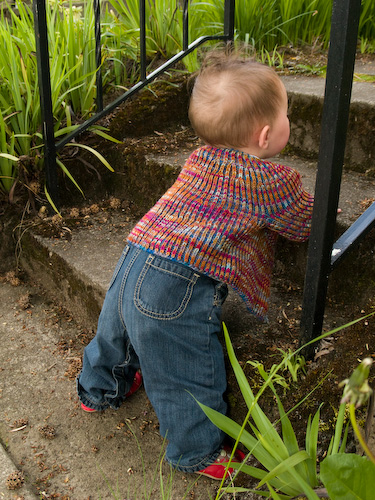 Yarn: Socks That Rock Lightweight (NB: Jen's single-color version is written for Heavyweight) in Blue Brick Wall (furrows) and a Rare Gem (ribs) that's similar to Bumbleberry and Flower Power. It's completely reversible; I sewed buttons on both sides. So far, I'm thinking this was worth the extra effort. I love the color combination no matter which side is out, and it's so practical to be able to turn it around if one side gets foody or spitty when we're on the go.
Needles: 2.75mm, US #2. Brioche is so loose and fluffy that you need to use a smaller needle than you'd think.
Modifications: I learned everything a person needs to know about basic brioche and two-color brioche from Nancy Marchant's website and book, both of which should be considered knitterly world treasures. Don't be intimidated by the new notation you're going to encounter within; because brioche requires combinations of familiar movements (yarnovers plus knitting or purling and slipped stitches), it makes sense to offer a new shorthand, and that's what Nancy has done. Jen has used Nancy's system, and I think you'll find it's straightforward and sensible once you spend a little time with it. I will make my notes with the specific numbers necessary to recreate Ada's jacket available this summer (or, um, as soon as I find them in my shameful mess of a woolery), but if you're itching to start now, all you really need is Jen's pattern and Nancy's website. I cast on about 30% more stitches because I was using the lighter wool, and after stabilizing the cast-on edge I'm happy with the result, but the Channel Islands cast on and the brioche pattern are so stretchy that you could, instead, start with the numbers in the pattern and then add an extra increase round in the yoke before you divide for the sleeves. This would give you a sweater with a snugger neckline than Ada's jacket has. Also, I added a round of increases halfway down the body to achieve a swingy line. I thought this would be extra cute on a little toddler and would work well with the single closure point I was planning, and I stand by that decision now that I see it on my babe. Especially since she came with lady tackle. I made no pretense of any intuition about her sex while I was pregnant, but apparently my fingers knew something my brain didn't. Everything unisex I made for my little one kept turning just a little bit girly on me.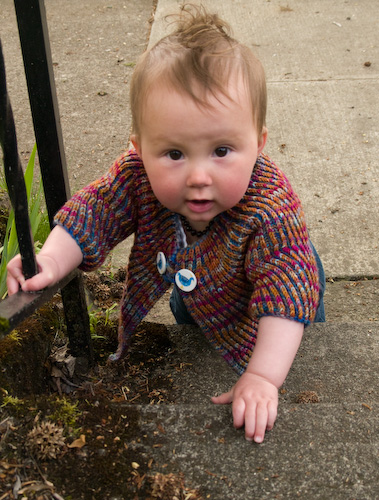 Love the short sleeves for increasingly capable little hands!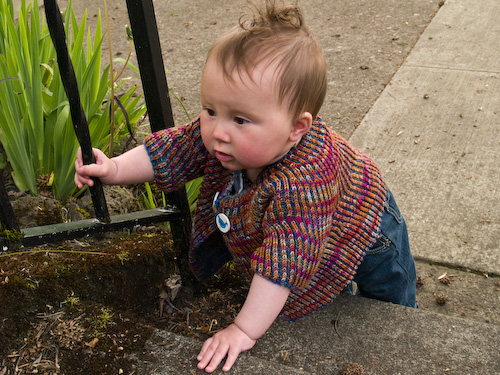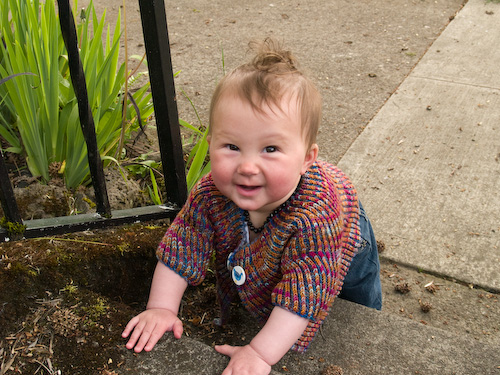 I expected to prefer the blue side, which is more to my usual taste, but I think this one suits her coloring remarkably well. She's got a slightly ruddy complexion from her dad's family and my rosy cheeks. (But she made up this fierce, impish smile all by herself. It goes with a rather scary growl when she's excited. Not for nothing was my daughter born in the year of the tiger.) I can't wait to see her staggering tipsily around in this jacket later in the summer. We have a lot of practicing to do, but Ada's will is strong. Give me your fingers, Mama! Let's walk! Rooooaar!