Published on Tuesday May 3rd, 2011
I shall wear a pullover of the darkest shadows in the fir forest, a green so earthy it is almost brown, with the most exquisite florescence of color ever designed at the yoke.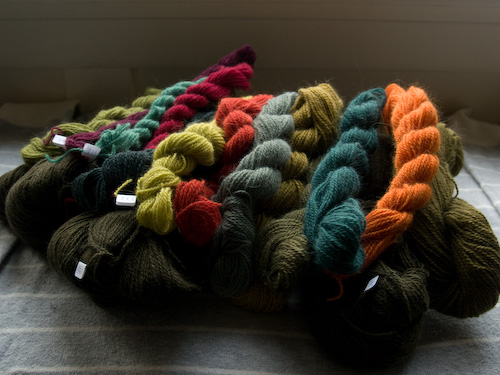 It shall be softer than a mole's armpit, as my grandfather would have said, half of its fiber being angora, and it shall have been knit with the smallest needles I own. This is why I shall be very old indeed before I can wear it, but it shall be Worth It. (In fact, I have taken care that the colors will also suit my daughter, because this pullover shall be an Heirloom, dammit.)
Yes, I have spent nine months regularly peeping the SOLsilke website and trying to choose among the many beauteous Bohus sweater kits, and I have finally screwed both my courage and several years' birthday money to the sticking place and ordered The Wild Apple. I have lusted for these sweaters since I first learned of their existence about five years ago. I have lovingly petted several gorgeous examples that once belonged to Elizabeth Zimmermann, which felt a little like being allowed to leaf through the Book of Kells. A year ago at the Madrona retreat I was spurred to the action of buying a kit by Stephanie Pearl-McPhee, who pointed out that master dyer Solveig Gustafsson, recreator and sole purveyor of the materials and designs originally developed by the Bohus Stickning couture knitters in the 1940s, '50s, and '60s, is in her eighties and won't live forever. Much of what I like to knit and design draws on history for inspiration but veers off in a more modern direction, but occasionally it's invigorating to go straight to the source and knit exactly as the ancestors did. (The lovely book Poems in Color thoroughly describes the Bohus history and offers patterns for many of the designs — hooray! — but presumes that modern knitters will not wish to tackle an entire sweater at 9 stitches per inch. The results are beautiful, but the sport-weight gauge means you lose a touch of the intricacy of the authentic Swedish sweaters.)
But which to choose? I dithered and dithered. Forest Darkness, with its oceanic color shifts? Guld, with its striking golden collar? Blue Shimmer's pleasing, classic blues and browns? The subtle beauty of Gothic Window? Or the eye-catching Egg? (Here's a link to the Kerstin Olsson page on Ravelry so you can drool over all of them at once. Follow the SOLsilke link above and click "Bohus Stickning" if you're not a Raveler.)
Finally, I decided the choice was simple. The Wild Apple was the first Bohus design to make my heart beat faster, and it still does. It's the most riotous of the color schemes, but I had no idea how raucous some of those oranges and greens actually were until I breathlessly tore open the package from Sweden that arrived on my doorstep this week. I would never have had the guts to combine these colors. The Bohus addition of purl stitches to the motifs allows the designer to integrate colors to an unusual degree, to bring them into conversation rather than just contrast, but still… mint and olive greens? Paprika and cherry reds? That Kerstin Olsson knew the rules well enough to break them and wasn't afraid to be loud. I'll bet my grandmother would have liked her. Because those yoke colors remind me more than a little of this: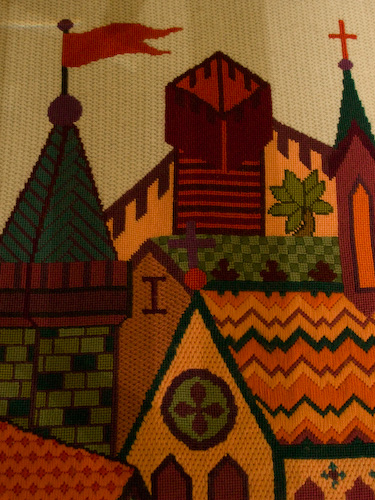 detail from my grandmother's castle tapestry
Here's a glass raised to old women with sure minds and sharp needles. That's what I want to be when I grow up.