Published on Sunday April 10th, 2011
That's my eight-month-old girl these days: keenly attuned to the world around her and eager to participate, investigate, manipulate, and mouth. She has an infectious laugh, a frank gaze, unshakable determination, a bottomless appetite, and a sense of humor. Yesterday she pulled off my hat, covered my face with it, then snatched it away and chortled at me — her first initiation of Peek-a-boo. Oh, and did I mention that her cheeks are both glorious and delectable?
Here she's just waking up from a snooze during a walk at the Sandy River delta: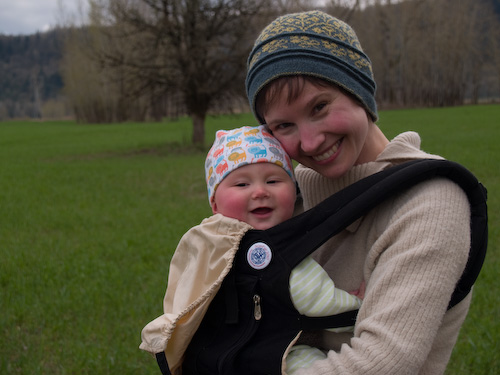 (And yes, a handknit in action — my mostly Selbu Modern cloche is still a favorite!)
My little lass is no longer quite such a terrible napper, either. On Friday morning she slept — hallelujah! — for two glorious hours. I felt as though I'd sprinted into the end zone of Mamadom and made the game-winning catch. As a dance of victory and thanksgiving, I sewed my Ada a perfectly adorable pair of pants, which I can't wait to show you when the weather gets warm enough for thin cotton. (I made them too big for now, as this weather cannot be expected until the fifth of July.)
I'd like to be writing here more often to say so, but we are keeping well.