Published on Wednesday August 18th, 2010
Thank you all so much for your warm welcome to Ada! I imagine one day she'll see the archives of this blog and be amazed that she had so many well-wishers all over the globe. I hope it makes her feel all cozy and grateful inside the way it does me.
Sometime soon I'll manage a post about my own knitting — really! I took all these photos of finished goods before Ada arrived! — but today the temperature finally dropped back into the 60s and 70s and our girl got to wear her very first handknit, made by the lovely and brilliant Kristen Hanley Cardozo. (No, that cute little stripey number she's wearing in her debut post wasn't made by hand, though it's nonetheless a very sweet gift from friends.) Kristen designed this adorable cardigan especially for our Minnow. It's called Surtsey and you can get it here.
She also somehow got another baby to hold still long enough to take pictures of it for the pattern. Now I know why those famous photographers who arrange babies in fruit baskets and giant pea pods and whatnot only work with sleeping infants. Herewith my laughable attempt at a Surtsey photoshoot: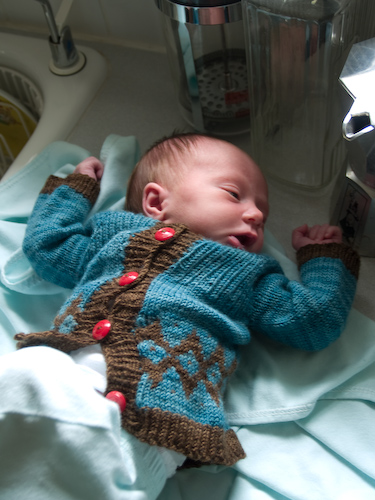 Okay, not too bad. You can see the sweater pretty well. But then it goes downhill…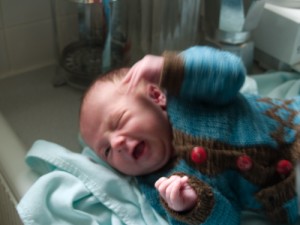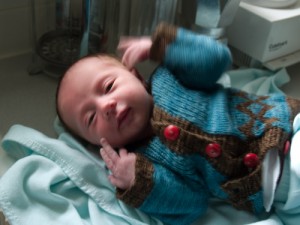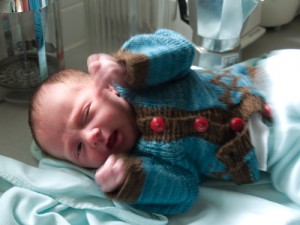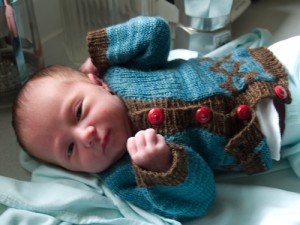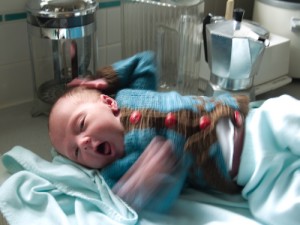 This is the girl the pediatrician just called one of the mellowest babies he's ever seen.
Boy, does she have him fooled.

Mille grazie, Kristen. We love it!