Published on Friday July 9th, 2010
Let's wallow in some handcrafted goodness, shall we? I need to show you some of the beautiful things my dear friends have been making for Minnow, and I thought you might like to know how the snail romper is coming along: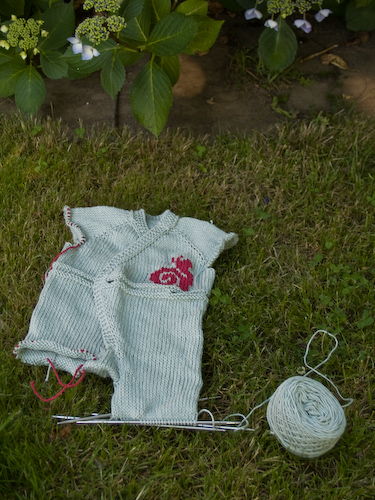 Since taking this photo yesterday evening, I've finished leg #1 and added half another leg. This project should be finished in just a few more days… dare I say by the end of the weekend? (This might depend how well fought the final World Cup matches prove to be. Paul says Germany is going to take the consolation match tomorrow and has picked Spain to win it all, in case you're wondering. This is, at the very least, sound diplomacy on Paul's part. After his semifinal predictions he was getting death threats from his angry countrymen and offers of asylum from the Spanish government.) Anyway, I kind of miscalculated where to place the snail, and as a result this romper is a bit longer in the body than it was meant to be and also the lower portion is slightly larger than the top portion. But I figure this might actually be a boon, since it has to fit over a cloth diaper.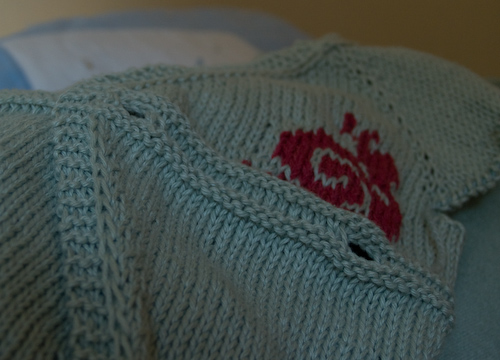 Now I want to show you two quilts made by friends on the island who have watched me grow since I was not much bigger than Minnow is now.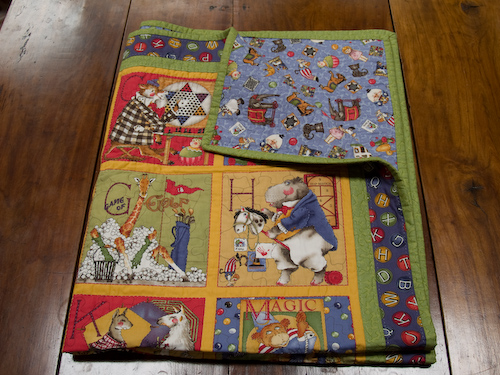 Mary B. hand-quilted around every detail of the animal pictures on this sweet alphabet quilt. Mary made it sound like it ain't no thang, but having practiced my hand quilting last summer, I know how much time all those tiny stitches require! In this picture you can just see how even her work is: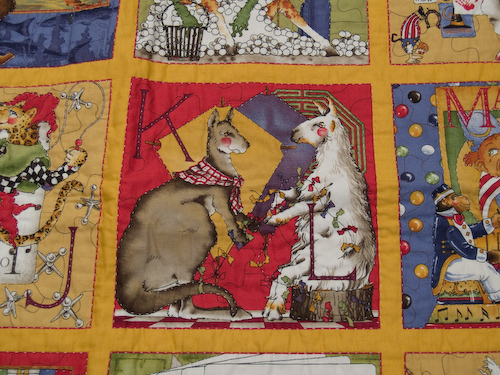 (Ideally, this kangaroo would be knitting, but I guess that might be confusing to small students of phonics who are only just learning their letters. At least the fabric designer didn't try to add knitting but actually illustrate crochet, which really would have confused poor Minnow, who ought to be able to learn both of those skills by the time he or she is grown enough to be contemplating the alphabet.)
And this beauty was made by our friend Krispi. Krispi is a Really Good Quilter. See her perfect corners? Mine will never look this good.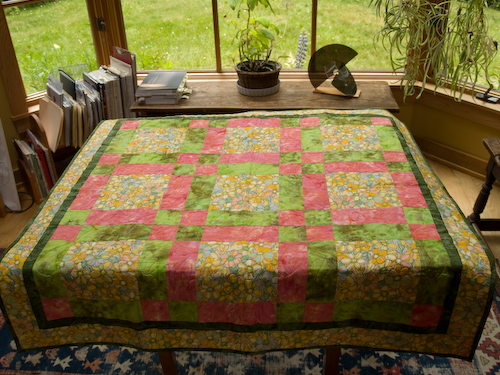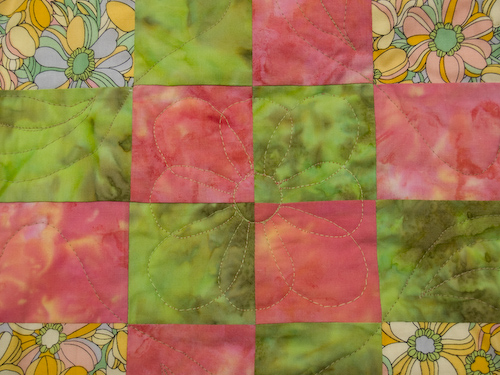 It makes me feel all gooey inside to think about wrapping my baby in all this handmade love. And wait till I show you the handknits from my Portland posse! I'll be taking pictures of those this weekend.