Published on Sunday May 9th, 2010
Knitting at faculty meeting is one of the pleasures of my work week. I am blessed with extraordinary colleagues, men and women of intellect, empathy, and humor; it's always a treat to converse with them. Perhaps it is not coincidental that a surprisingly large percentage of them are also knitters. When we gather on Wednesday afternoons we're a group of about 30, and there are regularly four or five laps containing balls of wool and flashing needles. At least as many more more pairs of hands hold the knowledge but prefer other settings.
Anyway, about a month ago, in the midst of a discussion about effective teacher training practices or plans for a colloquium on mentorship and creativity, I noticed Jen was working on a little brioche sweater, infant size. It reminded me of having seen tantalizing bits of Nancy Marchant's new brioche book on the internet and being quite taken with the two-color brioche examples (this jacket is a particularly natty piece of design, don't you think?). So when Jen mentioned on Friday that she was casting on a third little brioche sweater to brush up the pattern for publication, I told her of my desire to try it in two yarns. We met up at Twisted that evening, she refreshed my memory of the Channel Islands cast-on, we guessed at some different math for my Socks That Rock Lightweight versus her Heavyweight, and with the help of Nancy's book I started the experiment.
Now I can't stop, because it is just so stinking PRETTY!
I'm thinking of this as the boy side — that's Blue Moon's "Blue Brick Wall" colorway you're seeing on the ribs. And when you flip it over, you get the girl side (an STR "Rare Gem"):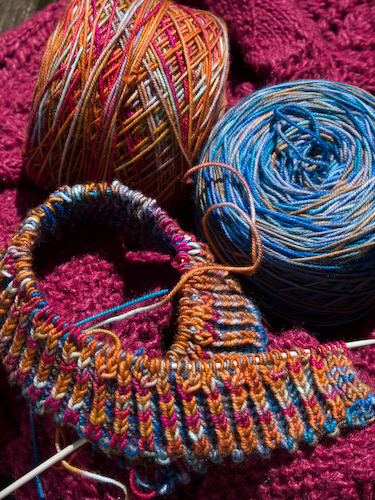 Just below the needle you can see where I've done the first round of yoke increases… they're reversible, too. The illustrations in Nancy's book are so clear it was no problem to learn how to do them waiting for my turn in the shower this morning, and you know how I love acquiring new knitting skills.
Speaking of this morning, let's have a moment of appreciation for my husband. I woke up thinking it would be an awfully good idea if we stopped by Grand Central Bakery on the way to choir, because rhubarb is finally in season and the Grand Central Rhubarb Handpie is one of my favorite treats on the planet. Mr. G loves the idea of my craving anything due to pregnancy (in truth, I get the rhubarb handpie jones just as strongly when not gravid), so he was in favor of the plan. And when we got to the bakery, there they were — five or six beautiful rhubarb pastries on the tray behind the glass. I drooled in their general direction as we waited in line, and then it was our turn to order. AND THE HANDPIES WERE SOLD OUT. Because the people at the next register had just bought ALL OF THEM. Words cannot express how crestfallen I was. I flailed about in distress and finally agreed to settle for a strawberry-rhubarb tart, which is half the size and really not the same thing at all (although undeniably tasty in its own right). But while I was still looking daggers at the handpie looters across the cafe, my husband already had his phone out and was calculating that we had just enough time before choir to go by the other Grand Central location in Northwest and confirming that they still had a few handpies left and would hold one for me. I told him that I really was just about capable of being a big girl about the disappointment (or would be in another few minutes), but the man would stop at nothing to satisfy my needs. So I got my rhubarb and we even made it to choir on time. It was a good morning.