Published on Thursday April 15th, 2010
I've lost my heart to a new sock pattern and a new sock yarn. I ran across christhalinette's take on Beate Zäch's charming Bluemchen pattern on Ravelry and thought, "How whimsical!" Then I looked more closely. How exactly were those flowers constructed? Wait, are those decreases between the petals? Am I seeing little gussets in unusual places?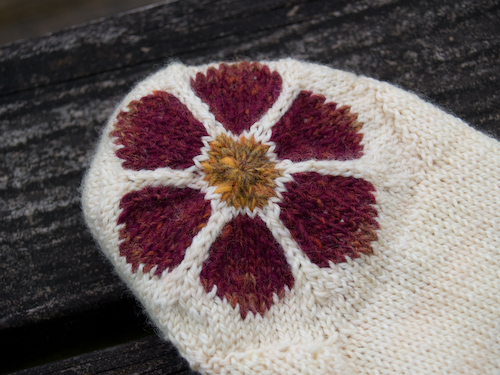 Sure enough, the pattern begins with a little stranded hexagon… and then another coupled to it, and then some funny little earflap pieces… and pretty soon you have something that really does look like part of a sock foot. A sock foot with genius reinforcement in just the places a sock foot needs it. There is a lot more sewing involved than in a regular sock, but I found it so engaging to watch a sock form emerging that I hardly noticed the extra labor.
As you can see, I totally copied the color scheme from that first pair I fell for. I already knew I wanted to buy something with long color changes for the flowers; I went hunting in my stash for a solid, pale base yarn and came up with a nice gray ball of Satakieli the color of gull wings. I took it with me to the shop and began to fret when I couldn't find just what I'd imagined — a floral colorway that wouldn't look too juvenile or too Vegas. Finally I settled on a ball of Noro in the lyrically named S185 C colorway. I'd had my eye on this one as my favorite of their offerings anyway, and I figured the remnants could go toward the ducky vertical-striped garter baby sweaters in my queue. It looked okay with the gray Satakieli, but it didn't really sing. So just for kicks I tried one of my favorite yarn-browsing techniques: the Squint Eye. I held up the Noro at arm's length, squinted one eye at it like a nearsighted pirate ogling a buxom barmaid, and slowly passed it in front of the wall of sock yarn to see if anything hanging there would give it that razzle dazzle that happens when two colors were meant to be together. (I imagine the performance of the Squint Eye looks mighty peculiar except to veteran yarn-buyers. Go on, I'll bet you use it too.)
And there it was. The magic glow. And it was coming from something that looked suspiciously like plain, unbleached wool.
I quickly restored my face to its normal configuration so I could investigate. The magic was coming from the section of the wall housing the offerings from A Verb for Keeping Warm. No surprise there — Kristine Vejar is a visionary. I love her India-inflected color sense, and also her commitment to natural dyes and to farmers and mills in the U.S. and Canada. But what was this peculiar magic skein of Creating that didn't look like it had been dyed at all? The color was called "citron." I carried it over to the window to see it in what was left of the natural light. It still just looked like cream, but the Noro was crazy about it, practically slavering around its skirts. So I shrugged and had them put it on the swift for me.
The next morning I kept giving that unassuming ball little sideways glances as I cast on and began my first hexagon. Wait, was that a blush of pink grapefruit I spied? A hint of lemongrass? It was! This yarn may not perform to strangers the way its AVFKW brethren do, but Kristine really is a genius. It's as if she stirred a single one of these into that pot of fresh cream: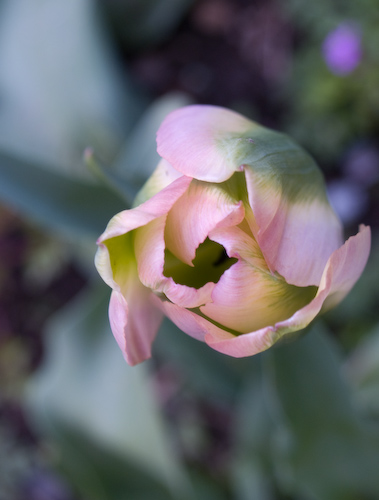 (Just the tulip. Not the invasive wild geranium I need to rip out of every corner in the garden… again.) And not that you can really see it when I take photographs at 6pm after work. You'll have to take my word for it until I can get proper pictures in proper daylight.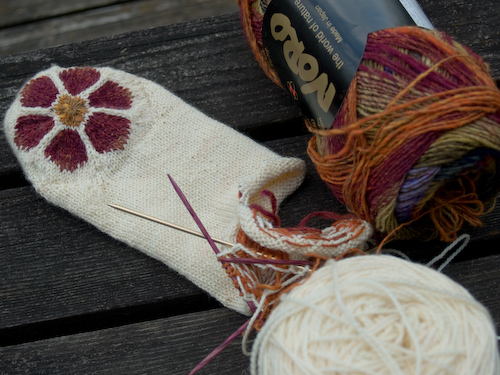 The first sock is finished, and so is the first hexagon of the second sock. Can I somehow have both socks blocked by Monday? My birthday girl may have to open a gift containing just one sock, with the second to follow later in the week. Gifting one dry sock would be better than two damp ones, right? Wet socks, even handknit ones with really pretty flowers, don't exactly say I love you and I'm going to miss you so much when you move to Maine.