Published on Thursday October 1st, 2009
It's out of the chrysalis for the Cocoon-Stitch Half-Circle Shawl (a thoroughly unromantic name—make yourself free to propose something better!). Actually, I've been wearing it for some days, but it took some doing to achieve the necessary husband + camera + daylight confluence to document the occasion.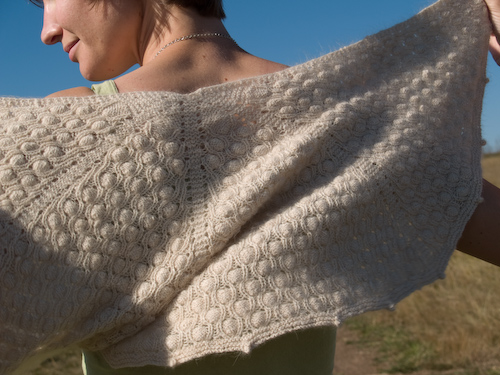 It was windy and bright up on Powell Butte (why yes, I absolutely DID steal the idea to go for a little hike and shoot photos of a new shawl up there from the talented Miss Emily of the Family Trunk Project, whose trunk show I hope to attend at Twisted next Friday), which is why I'm looking so squinty and ruffled in these pictures.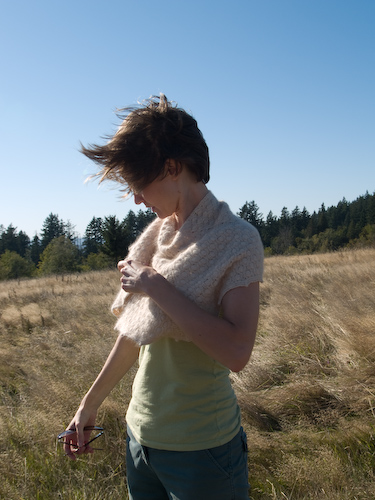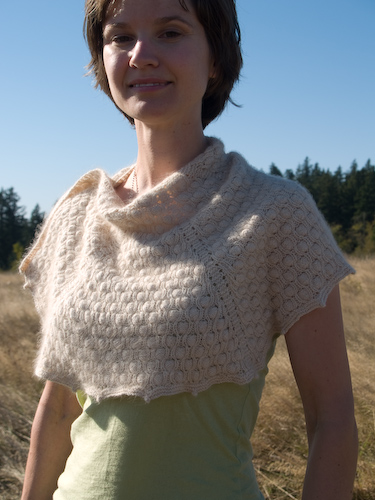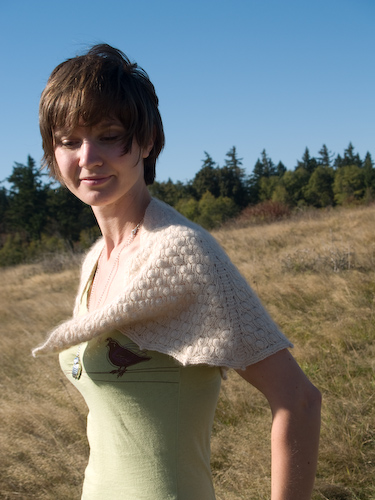 I do love this little number. Sooooo soft. Soooooo cozy. My preciousssss. I've been wearing it all different ways—points free, pinned in front, cattywampus and pinned at the shoulder. It's a perfect size to warm your neck and shoulders without dragging its points in your soup or snagging on the furniture. If you can bear to knit from line-by-line directions, I absolutely recommend it.
Now, your good wishes, if I might have them. I may have torn my cornea (courtesy of grit in the eye while cycling). It doesn't feel that bad, but it doesn't look that good. Do please cross your fingers that the optometrist won't insist on any treatment more drastic than a piratic eyepatch. I shall wear my most swashbuckling boots to her office in the morning in an attempt to turn her mind in that direction.