Published on Wednesday September 9th, 2009
I haven't written a lot about the Cocoon-Stitch Half-Circle Shawl, but I've been steadily working away at it this summer. The pattern is written line by line, with no chart, so it requires a good stretch of uninterrupted knitting time and a well-placed Post-It note to make progress. I took it for train knitting when we went up to Seattle in August to see a Mariners game, and then I had a nice quiet evening of knitting with my friend Leigh to bring it close to the end. I actually almost finished the pattern on the Seattle trip, but I had quite a bit of the glorious Toots Le Blanc merino/angora yarn leftover and didn't want to waste a yard, so while Leigh was regaling me with stories of her trip to Ireland as we drank lemonade and ate Irish bourbon chocolates on a sticky summer night, I worked back through the pattern to find a point where the increases would align so I could add another couple of cocoon rows. (I had to go all the way back to Row 78, in case you decide to do the same, to match up the peculiar scheme of increases. I worked Rows 78-89 over again before I knit the edging.) Two ridges of garter edging seemed a bit skimpy, and I still had yarn left. I thought I might as well add some nupps before the cast off, since they're so adorable, and since my Addi Lace needles make me want to show off with nonchalant p7tog maneuvers.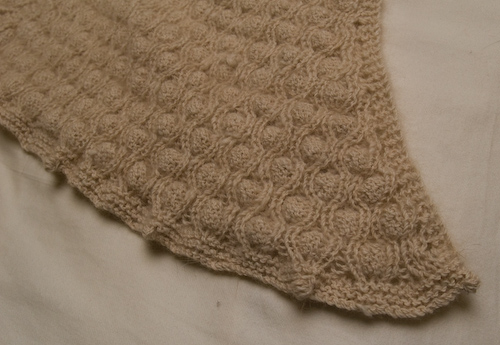 And I still had some yarn left.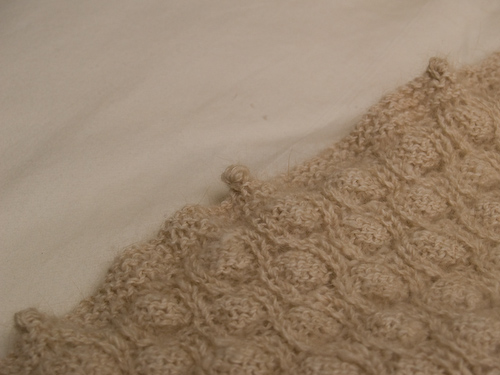 I started the bind-off during our book club meeting as we discussed Reading Lolita in Tehran (which we agreed was a disappointment, but did make us want to read or re-read the classic novels Nafisi mentions). I wasn't too far in when I realized I was in trouble. Yes, I was running out of yarn. This has become a bit of a theme for me this year… I don't know whether I've gotten over-confident or what. I already knew there wasn't a lot in the stash that might blend well enough with the Toots Le Blanc to get me through the second half of the bind-off. I looked anyway the next morning, when I had some light to really compare colors. Nope, nothing really close enough to do justice to such an elegant little piece of knitting. But Toots Le Blanc is run out of Hillsboro, OR, just over the West Hills. Maybe I could beseech them to clip me just a few yards of Fawn merino/angora? I wrote them an e-mail.
The following day I had two messages back, one from each of the owners, saying that they did often have mill ends and would check right away. In no time I had confirmation from Michele that she had a few spare yards of Fawn and could pop them in the mail to me or hand them off in person on her return from a business trip. So we arranged to meet in a Starbucks parking lot. She pulled up with her minivan stuffed to the gills with bags of beautiful piebald Jacob fleece, and we quickly skeined off enough of the merino/angora for me to finish my little shawl.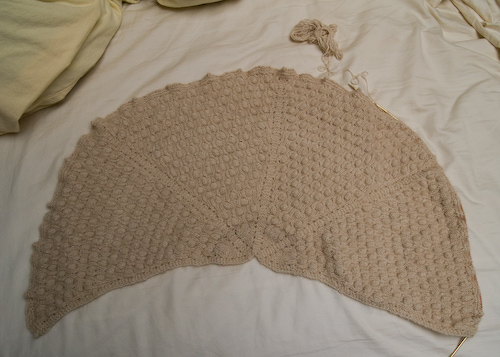 So I was able to finish comfortably, and now I've popped the luscious little thing into a Eucalan bath so it can bloom to full bunnycrack goodness. (I won't block it very aggressively, as I'm quite fond of the three-dimensional character of the cocoons.) Just one more reason to seek out a great little local company, folks! Toots Le Blanc really went the extra mile for me, and I couldn't be more in love with their product. I'd love to have the budget for enough of the merino/angora for one of the big shawls in Nancy Bush's Estonian lace book, but for the time being I'll hope to try Toots's Blue-Face Leicester/Pygora laceweight, which could yield a small shawl for $30. So go forth and knit local—you never know when it's going to save your bacon!