Published on Monday July 20th, 2009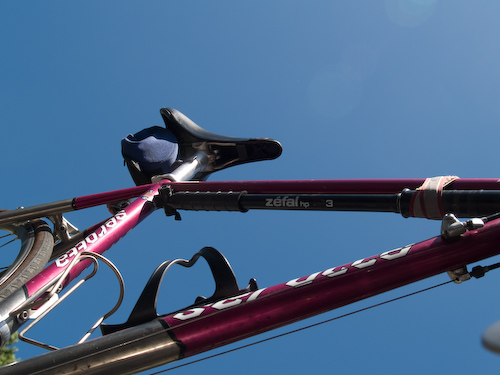 We drove down to Monmouth Sunday morning to take part in the Cycle Oregon Weekend ride. Unfortunately, we discovered upon arrival that the bag containing our shoes, jerseys, sunscreen—basically all we needed—had been left behind. So the bikes got an airing on the car roof, but didn't get to taste the road at all. In truth, it was probably a blessing in disguise, as I've been having knee/back trouble and hadn't felt great after our easy ride on Saturday. I may just have irritated the knee enough that it's going to grumble even though my spine and seat height have been professionally adjusted, in which case there's nothing for it but to rest.
In knitting news…
Yes, that's Daisy Daisy blocking on the floor! She lacks a button and the special embellishment I've planned around it, but I wanted to block her for length before I placed the button. I may be off my real bicycle more than I'd like, but things look good for my conquest of the yellow jersey in the Tour de France KAL!