Published on Wednesday June 3rd, 2009
When Monday morning begins with the dog escaping from the yard and cruising over to the neighbors' to sample their buffet of dirty diaper trash, it doesn't augur for a good week. Given that the subsequent clean-up effort caused me to forget both my lunch and the reports I needed to edit today, let's not even try to imagine what the fates may have in store. The world is probably trying to throw us a little something to balance against a lovely weekend that included an early morning bike ride, a thrilling finish to the Giro d'Italia, a nice dinner out with the Senior G's in honor of their 35th anniversary (producing the leftovers now languishing on the kitchen counter), plenty of sock knitting, a trip to the farmers' market…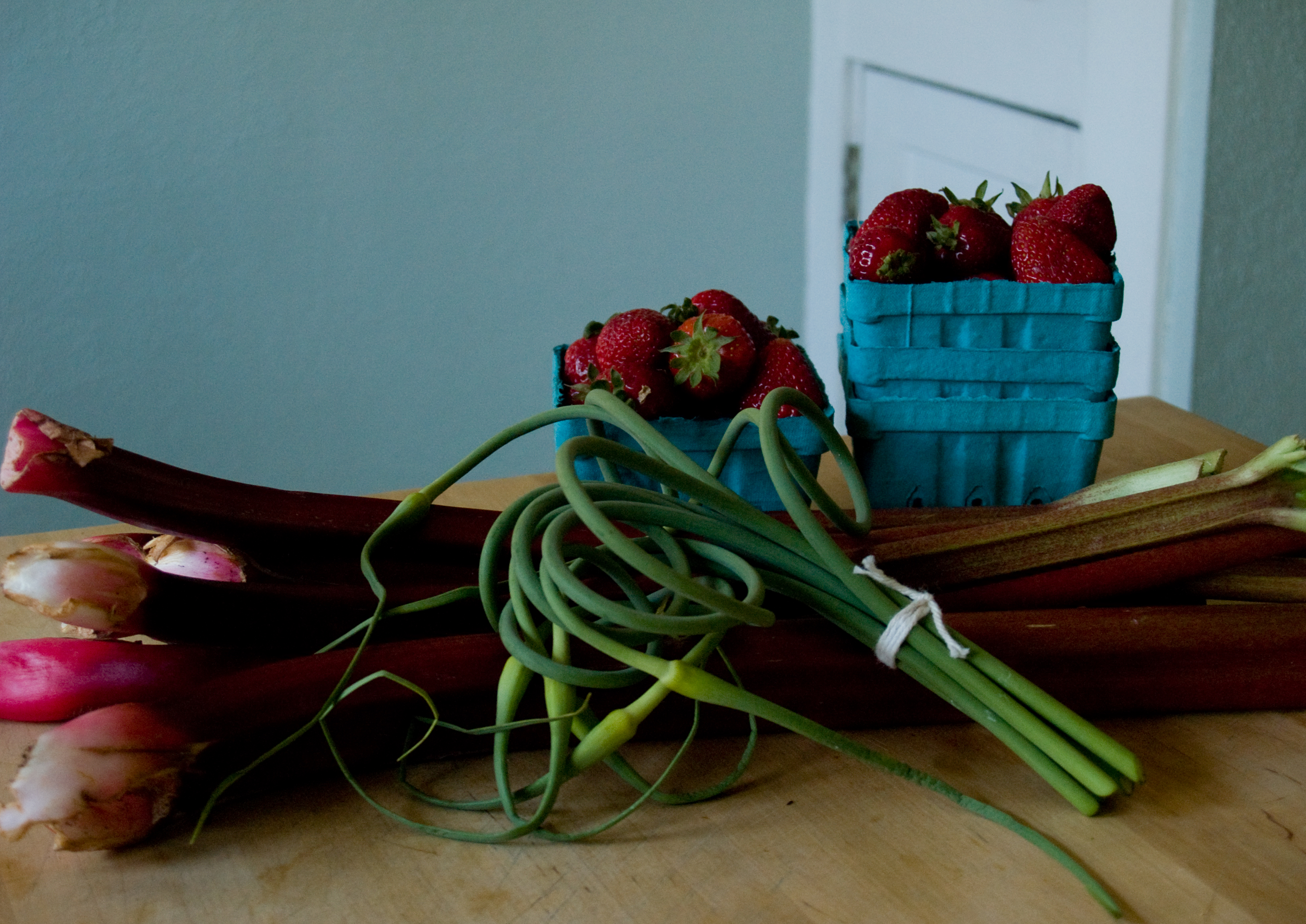 … and an impromptu celebration of my neighbor Barb's birthday, lounging in the grass in their beautiful garden and enjoying a birthday cake I whipped up for the occasion. I went with my new favorite cake recipe, which I'd made once before exactly as written and found excellent: neither too sweet nor too time consuming. But this time, I had rhubarb, and when rhubarb is in season I'm generally of the opinion that it ought to go into anything I might bake. So Barb got Apple and Rhubarb Yogurt Cake à  la Clotilde. We had (shockingly) run out of maple syrup, so I substituted 1/4 c. of Lyle's Golden syrup* and a scant 1/2 c. of turbinado sugar. The rhubarb I chopped in 1/4″ to 1/2″ slices and tossed with about 1 Tbsp. more turbinado sugar. One medium size, long stalk was exactly right to cover the top: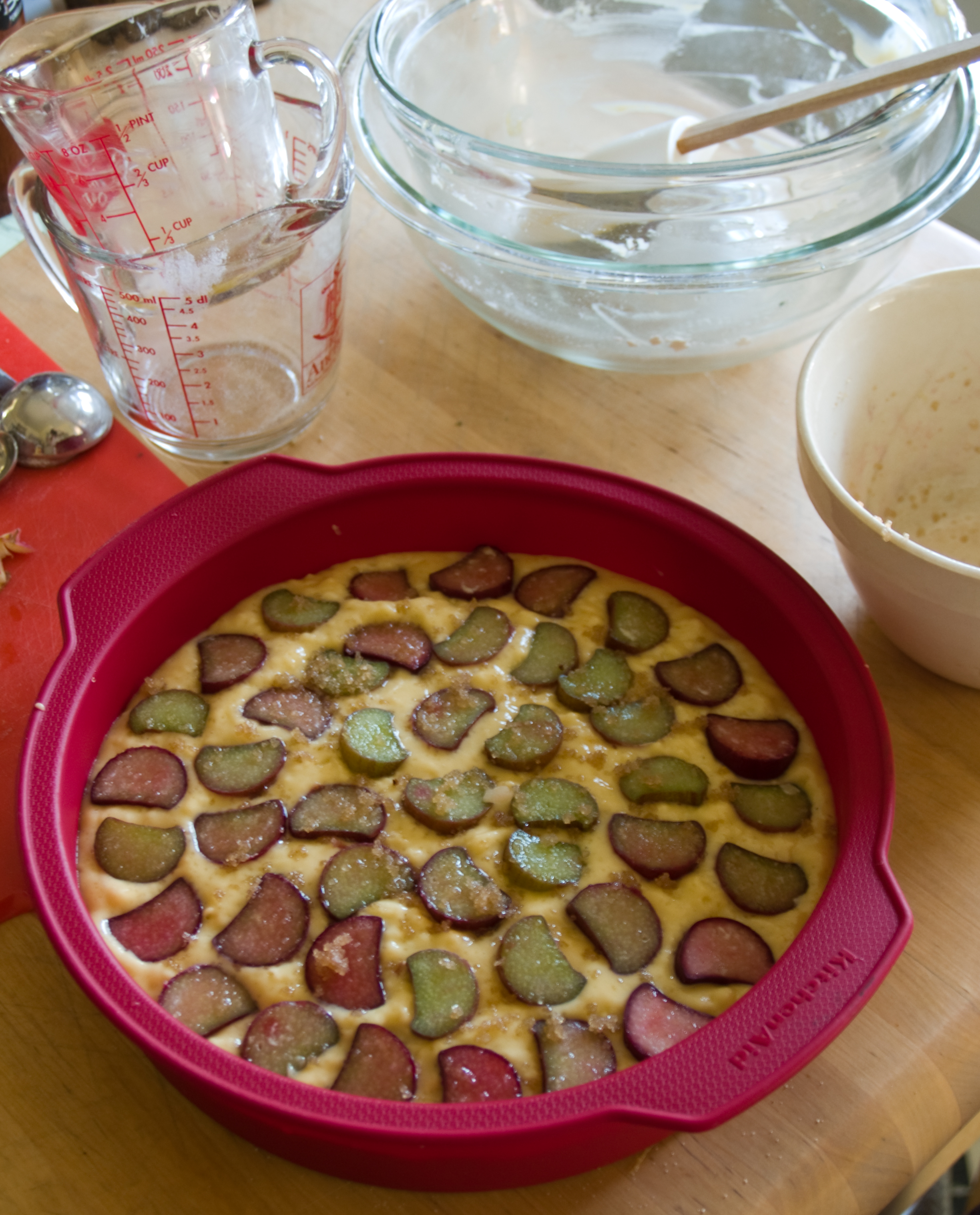 I pressed the rhubarb slices gently into the batter, sprinkled (as much as one can sprinkle wet clumps) the remaining sugar in the bowl over the top, then layered the apple slices on above, sprinkled again very lightly with a bit more turbinado sugar. I neglected to take a picture of the finished cake (you can tell I'll never make a food blogger), but I'm happy to report that it was delicious and the rhubarb added just the right pleasing tartness without making the cake soggy.
I also gave Barb a drop spindle that I'll be teaching her how to use, in my admittedly inexpert way. She knits a bit and she's been intrigued by the spindle since I busted one out at early morning 2006 Tour de France screenings at the bike shop where she works (her husband was the recipient of the hat I knit from the resulting fiber). She managed to acquire a heap of wool, so I'm all set to grow myself a spinning partner! Just imagine the attention we'll probably attract, drop spindling away on one or the other of our front porches on summer evenings…
*A treat unfamiliar to far too many Americans—and you really should go read about it, as this article typifies the wonders of Wikipedia. I, for one, had no idea that the lion on the label is a) Biblical, and b) dead. I thought he was sleeping and bothered by flies. While I'm slightly stricken to be disabused of my gentler interpretation, I do love me a Peculiar Inventor story (someone remind me to Netflix that documentary about Dr. Bronner, okay? Go read the label of one of his soap bottles—ideally aloud to friends, and it's best if you're all a little tipsy or otherwise in a jolly mood—if you don't know what I'm talking about. Arctic owls and Mark Spitz! All one or none!), and it looks like Mr. Abram Lyle fit the bill.