Published on Wednesday May 27th, 2009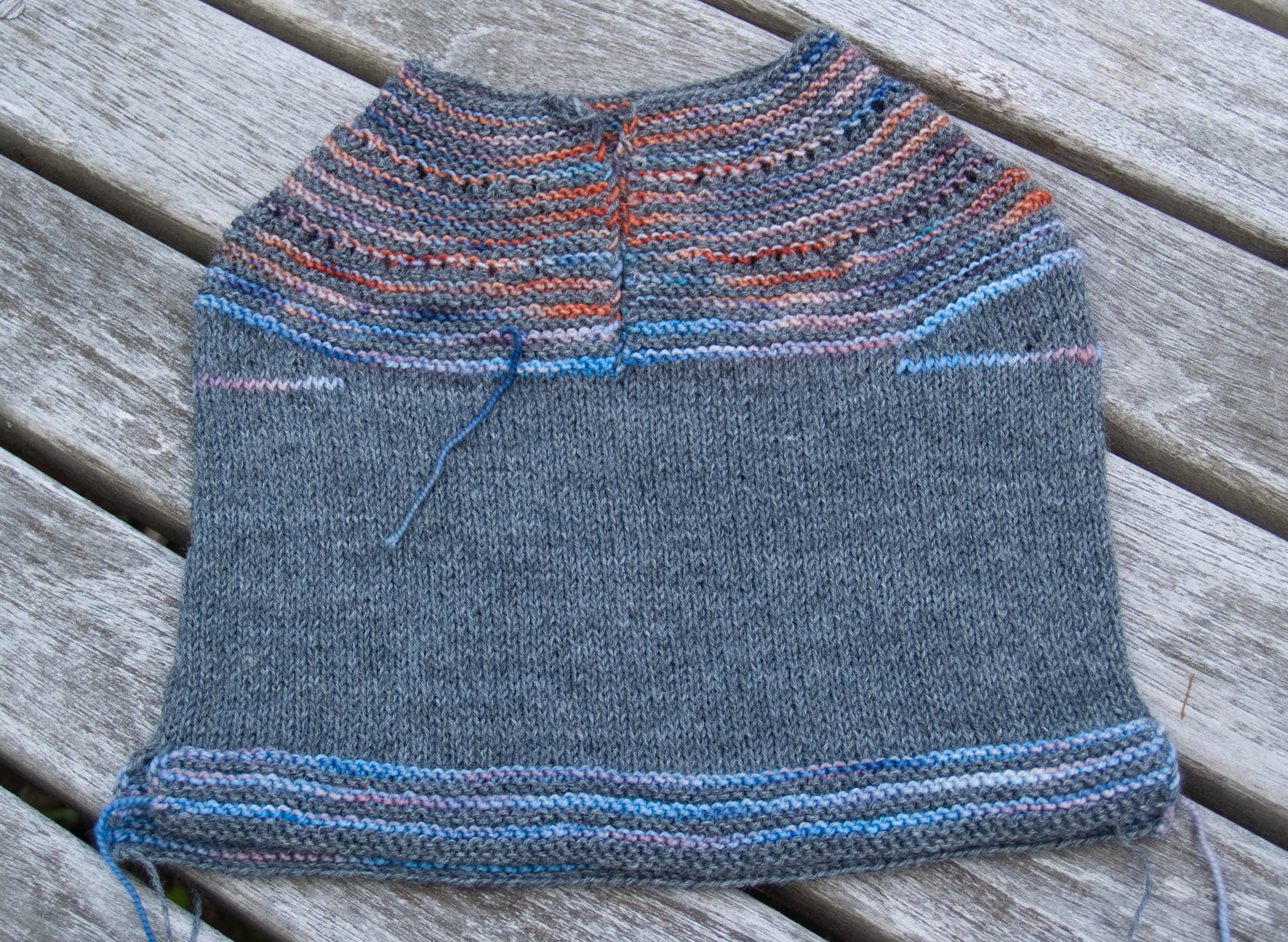 I'm working on the second prototype of the Islander sweater, and thought you might like to see how it looks before the sleeves go on. See the horizontal stripes of colored yarn at each side below the yoke? I'm going to pull those out, pick up the loose stitches above and below, and knit them in the round down to the cuffs. You can also see the short rows above, which lift the back of the neck by about an inch.
The yarn, in case you're curious, is Koigu leftovers from my Andamento sock and Knit Picks Essential Sock in, I think, Charcoal. I wouldn't call the latter an ideal yarn for this project. It's a little thin and hard, not bouncy like the Koigu, but I wanted to use up some stash and I thought the color would work well against the Koigu scraps. Actually, I ran out of the original leftover color a couple of ridges before the end of the yoke, so I broke into a new skein of harmonious blue/mauve Koigu that's also been marinating in the sock yarn drawer for a good long time.
And once I had that new skein wound up, I couldn't resist casting on a new sock. Actually two socks. It's going to be a sock inside a sock, which I've wanted to try since I read the passage in War and Peace where Anna Makarovna pulls a second finished sock out from within the visible one, to the amazement and delight of the children. Katrin thinks I'm nuts. But I can't be the only one who's intrigued. At least five other people on Ravelry are. I'm knitting the ribbed cuffs separately, but I'll show you a picture when I join them!