Published on Thursday March 5th, 2009
The faintest gleam of sunshine while I was taking my lunch break yielded this: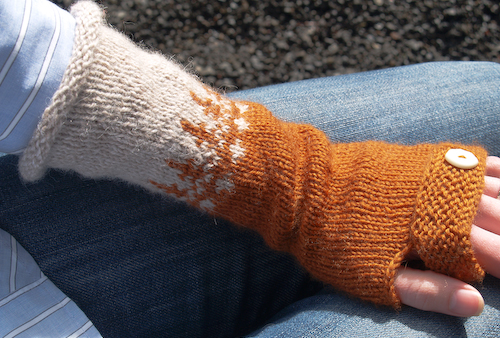 There's been enough interest in this "design" from folks who've seen me wearing my new armwarmers around that I'll be writing up the pattern. This should be a totally foolproof process as long as I can manage the color chart in an attractive computery way, so I hope to do it over the weekend. In case you want to go stash diving in anticipation (and this is a truly stash-divey project), these are knit with sport-weight or DK alpaca. I used Frog Tree's (warning: before blocking this stuff was shaming me as a knitter–my stitches were cattywampus and totally ahoo at the needle joins, thanks to the 2-ply construction and loose gauge. Blocking solved everything, so don't give up in despair as I would have if this hadn't been such a spontaneous project.) and La Droguerie's. I've got loads of both skeins leftover, so these long gloves don't take much. Rowan Felted Tweed would make a delicious substitute; I'll definitely be making myself a pair in some leftovers I've got on hand.
Also, the Minaret Opera Gloves I started in Malabrigo Sock Cordovan (be still my heart and look out my husband — I could totally elope with this yarn):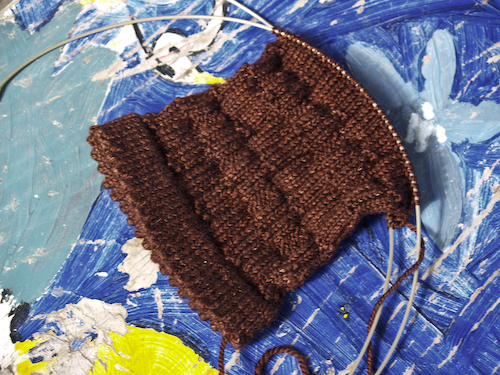 Delicious rich brownness not captured here… the sun had already gone away again.