Published on Tuesday September 23rd, 2008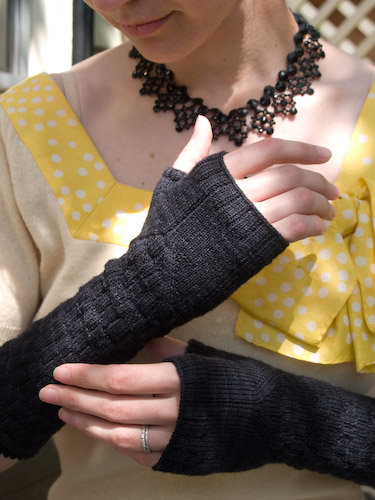 … I can show you one of my favorite designs from last spring: opera gloves, in a pattern I called Minaret for the graceful shape of the traveling stitches on the back of the hand. They don't show up on the Knit/Purl website yet, but the pattern is available if you call the store (or stop by, if you're in Portland). The official Shibui photo you'll see if you follow the link shows the stitch pattern very nicely, but I like these pictures Mr. G took when I wore them to a gala we attended in May.*
Here you can see the pretty "mouse teeth" (as it's called in German) picot edge. These take two skeins of Shibui Sock in Ink (or whatever color complements your fancy opera duds).
While you're checking out the new Shibui offerings, make sure you take a gander at Sara Morris's Columbia Cabled Pullover. My friend Patrick is modeling it, but I put it on at the shoot and wanted to steal the sample, it looked and felt so good.
*Someone's going to ask about the necklace. It's Victorian costume jewelry – I'm told it would have been attached to the neck of a gown rather than worn separately – and it's been in the family so long nobody knows whom it belonged to originally. I inherited it from Granny, but I never saw her wear it. It was probably her grandmother's.