Published on Sunday July 13th, 2008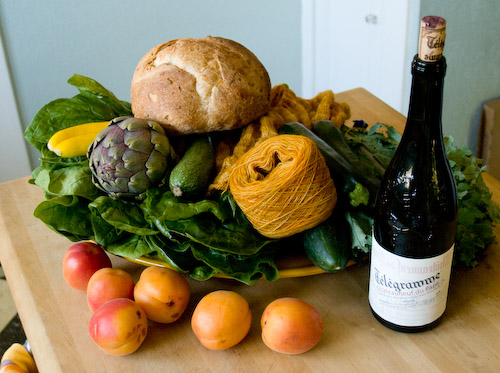 Saturday mornings are for the farmers' market. I thought my nascent cardigan might look fine reposing among the fresh produce and, for the sake of the composition, the bottle I saved from the best wine I've tasted since the Brunello we brought back from Montalcino in 2003.
The Red Russian kale went into an experimental Indian-esque dinner in the following way: I sautéed half a yellow onion in olive oil, added a can of chick peas, then stirred in some chopped fresh ginger, a Murchi curry blend (I went a little overboard and it wound up pretty hot – a couple of teaspoons would have done the trick), a handful of unsweetened coconut shavings, and a dash of hot pepper flakes. I removed the kale "backbones" and roughly chopped the leaves, then threw them into the mix. At this point I needed some liquid to keep it all from sticking. There happened to be some apple cider (sweet, not hard) in the icebox, so I poured in a slosh of that. Then I noticed our growler from the local brewery was in there, too, and still had a glug of flat pale ale in it. Into the pot it went, to counteract a little of the sweetness of the apple juice and deepen the flavor a bit. As soon as the kale had steamed it was done. I shaved a little ricotta salata over the plates to serve it, on the theory that the mild, salty cheese could stand in for proper paneer. It turned out pretty tasty! I often cook this way, starting with a good fresh main ingredient and improvising based on what happens to be in the cupboards. Sometimes the result isn't what I could hope, but mostly it works out well. And luckily my husband is a good sport about it (not that he has an alternate choice, unless he cooks himself).
We also bought raspberries, and unfortunately Mr. G figured he could dispense with their little boxes and pour them all into a plastic bag. The fragile little beauties promptly squashed each other and I knew they wouldn't last out the day. We ate a bowl each, and then I made freezer jam. The half a cup of mashed raspberries left over went into a fruity cocktail each: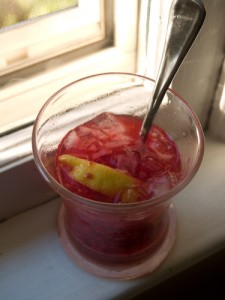 I adapted an internet recipe and it came out a bit too strong and too sweet, but here's what I'd do next time:
half a glass of crushed ice
1/4 c. mashed raspberries
1 Tbsp. sugar
1 measure light rum
a slice of lemon
Yum!
Today the chard, spinach, courgettes, and summer squash will join a trio of eggplants in a couple of pans of lasagne. One will be for us and a friend who's coming to dinner; the other we'll freeze for our friends who just brought home their beautiful new son.
Meanwhile, the Tour continues, and so does my progress on the yellow cardigan. If this piece of knitting has its equivalent of the Pyrenees, that's where I am, right along with the cyclists. Two more rows and I can put the sleeve stitches on waste yarn, but those rows are awfully long. The Alps will be the part where I have to pick up stitches and work a 1 x 1 ribbed edge around the whole body, but luckily I've got a couple of flatter stages in between to race down the rest of the cropped torso. Overall, I'm feeling good about my chances for the maillot vert!
Of course, there's going to be a major interruption in my focus on this piece. Pro riders are required to report their whereabouts to the team leadership even during the off-season, so I'll follow suit: on Thursday I'm leaving for Meg Swansen's Knitting Camp in Wisconsin, and I'm perfectly giddy with anticipation! I may have to put down the yellow cardi for a couple of days, but I intend to be knitting constantly for four days. And I've got a project in my head that will employ the techniques I need to work on at Camp without sacrificing the French connection – stay tuned! I'm off to wind the yarn I have to pack and do some weeding before the sun comes fully over the trees to bake me.